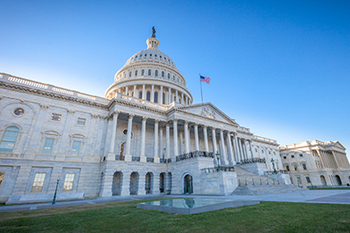 Despite the nation in the midst of a housing affordability crisis and an economy confronting high inflation, the National Association of Home Builders told Congress this week that the Biden administration's decision to push through a far-reaching waters of the United States (WOTUS) rule will needlessly raise housing costs, add unnecessary regulatory burdens to small businesses, and harm economic growth while doing little to protect America's waterways.
Testifying before the House Transportation and Infrastructure Committee's Subcommittee on Water Resources and Environment, NAHB Chairman Alicia Huey said "the new WOTUS rule is so extreme that the federal government will have the authority to regulate certain roadside ditches, isolated ponds and channels that may only flow after heavy rainfall."
The nation's home builders are strong stewards of the environment and believe that common-sense best management practices and understandable regulations are the best path to achieving the goals of the Clean Water Act and maintaining housing affordability.
"Unfortunately, the final rule fails to provide the clarity and certainty the home building industry seeks," said Huey. "This rule will increase federal regulatory power over private property and lead to increased litigation, permit requirements, and lengthy delays for any business trying to comply. Equally important, these changes will not significantly improve water quality because much of the rule improperly encompasses water features already regulated at the state level."
The final rule's regulatory definition for WOTUS includes the problematic significant nexus test to establish federal jurisdiction over minor waterbodies such as isolated wetlands, human-made ditches, or features that contain water only in response to rainfall events. The test's results are determined by a federal regulator who decides whether a specific feature, along with similarly situated waters in the region, has material influence on the chemical, physical, or biological integrity of a traditional navigable water.
Consequently, when developers and home builders acquire property, it will be nearly impossible for them to know the jurisdictional status of certain features without having federal regulators perform significant nexus tests on each requested jurisdictional determination. This results in further regulatory delays and increased costs for new single-family and multifamily housing at a time when housing affordability is at a more than 10-year low. Ultimately, it is prospective home buyers who will bear the brunt of this ill-conceived rule.
"Builders and developers, already grappling with the housing downturn, cannot depend upon the future home buying public to absorb the many costs associated with overregulation," said Huey. "This final rule only adds to the headwinds that our industry faces."
Finally, this regulatory morass is made worse since this new regulation could be overturned within a few weeks or shortly after it is implemented because the Supreme Court has heard arguments in Sackett v. EPA. The Sackett case is squarely focused on the legality of the significant nexus test.
"The administration has already declared a housing affordability crisis," said Huey. "So our message to policymakers is twofold: If the administration is truly interested in knocking down barriers to affordable housing, it will direct the EPA and U.S. Army Corps of Engineers to keep from implementing this rule until the Supreme Court issues its ruling in the Sackett case. Second, because this rule is fatally flawed, Congress should direct the agencies to implement a durable and practical definition of WOTUS that will truly protect our nation's water resources without infringing on states' rights and triggering additional expensive, time-consuming permitting and regulatory requirements."