National television news anchors have always worked to steal some of the spotlight for themselves in almost every political event.
This coming Nov. 22 congressional election is no exception.
Fox News
and anchor Chris Wallace have jointly filed a lawsuit against Missouri Democratic Senate candidate Robin Carnahan in response to her latest ad.
The ad features a 2006 interview between Wallace and her opponent, Rep. Roy Blunt.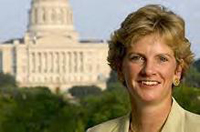 The lawsuit shows Wallace criticizing Blunt for a legislative record that would imply that he isn't the one to "clean up the house," claims copyright infringement, invasion of privacy and misappropriation of likeness, The
Hollywood Reporter
first reported last week.
In the interview, Wallace asks Blunt:
"You just said a moment ago that you have to show that you're the party of reform but some question whether you are the man to do that.
"In 2002, you tried to insert language into the Homeland Security Act to help Phillip Morris tobacco while you were dating that company's lobbyist.

"And your campaign committee's paid $485,000 to a firm linked to lobbyist Jack Abramoff. Are you the one to clean up the House?"
"Roy Blunt, the very worst of Washington," an announcer says, concluding the ad.
The
Huffington Post
reports
Fox News
's complaint alleges the "smear ad" makes it appear as if Fox and Wallace are endorsing Carnahan's campaign.
"FNC is a news organization and has not endorsed a candidate in the 2010 Missouri senatorial race," the complaint reads. "By including the FNC Interview in an ad endorsing a specific political candidate, defendant (Carnahan) harmed the value of the original work by compromising its apparent objectivity."

Media Matters notes an interesting point of contention, considering the fact that Fox News has agreed to moderate and broadcast a nationally-televised debate between Carnahan and Blunt, both of whom they claim not to have endorsed, The
Huffington Post
reports.
However, according to the Center for Responsive Politics, News Corp's political action committee "News America Holdings Inc-Fox Poll Action Committee" has donated more than $10,000 directly to Roy Blunt's campaign committee -- including $2,500 this election cycle -- yet apparently none to Robin Carnahan's campaign committee.
The video has been removed from both Carnahan's website and
YouTube
.
We think the
Fox News
lawsuit is without merit, as they say in legal circles. It's a joke.
News organizations, even acknowledged right-wing news groups like Fox, shouldn't cry foul whenever their posted material is used by political forces.
Sure, I know it's copyrighted material. But the point is news groups are not the Almighty. They have to take their lumps along with the rest of the unruly political crowd at times.
Should the Fox lawsuit be allowed to go forward in the courts? We think not.
What do you think?
---