The Nov. 2 congressional elections date is looming. Only 37 days to go. The heat generated from the voting deadline countdown is affecting candidates nationwide.
In California, for example, incumbent Democratic Congresswoman Loretta Sanchez, representing the Santa Ana district, is blasting her opponent, Republican Assemblyman Van Tran.
The Orange County Register reports Sanchez said in a recent Spanish-language interview that "the Vietnamese" and Republicans are trying to wrest control of her seat in Congress, from which "we have done so much for our community."
Her opponent, Republican Assemblyman Van Tran, quickly asked for an apology. But he didn't get one. Van described Sanchez's remarks as "offensive and wrong."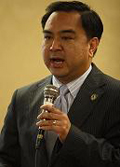 Her reference to "the Vietnamese" has bounced around the blogosphere in recent days and fired up talk radio.
"During the interview," her campaign said in a written statement, "Rep. Sanchez was referencing those in the Vietnamese community who are supporting her opponent."
The Van Tran campaign pounced back.
"Her attack against immigrants and the Vietnamese community on national television is shocking," campaign manager George Andrews said. "The 47th congressional district belongs to the people and not an individual ethnicity."
Sanchez reportedly said, "The Vietnamese and the Republicans are, with an intensity, (trying) to take this seat - this seat (from which) we have done so much for our community - to take this seat and give it to this Van Tran, who is very anti-immigrant and very anti-Hispanic."
Tran himself is an immigrant, having escaped Vietnam with his family shortly before the fall of Saigon. He has said he believes his immigrant past gives him an advantage in the central Orange County district.
Nearly half of the district's residents were born outside of the United States, according to the most-recent Census estimates, from 2008.
The district is almost 70 percent Hispanic, although the Vietnamese community has been growing and now represents about 9.5 percent of the population, according to the Orange County Register.
Was Sanchez's remarks out of place? We don't think so.
Politics has always been a game of words - some sharper than others, but words most politicians are supposed to be able to cope with.
What do you think?
---