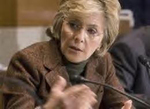 Barbara Boxer
Marcus Stanley, a senior aide to Sen. Barbara Boxer (D-Calif.) paid an annual salary of $100,000+, has resigned. He was arrested by U.S. Capitol Police Tuesday, 9-7-10, for trying to enter the Hart Senate Office Building while in possession of marijuana, The
Huffington Post
reports.
Stanley's current title was staff member for the Senate Environment and Public Works Committee. He worked as a congressional staffer since 2007.
So what's the big deal here?
The legalization of marijuana is a hot issue in Boxer's senatorial race as well as other California elections,
Politico.com
notes.

Dianne Feinstein
California Democrats have been largely divided over Proposition 19, a ballot question that would legalize marijuana and allow the government to impose taxes on pot.
Boxer and Sen. Dianne Feinstein (D-Calif.) have been opposed to the measure.
A
CNN/Time magazine
poll released Wednesday shows Republican challenger Carly Fiorina and Boxer locked in a tight race. Boxer was leading Fiorina 48% to 44% in the survey. The poll was conducted between Sept. 2 and Sept. 7 and has a margin of error of plus or minus 3.5%.

Carly Fiorina
California voters are laughing at this latest marijuana-related political incident. They hear and read of similar situations almost daily.
The pot arrest will make no difference to most of them. Barbara Boxer will be re-elected, but only by the tiniest margin.
What do you think?
---