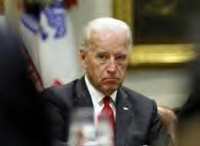 Vice President Joe Biden
With 38 days to go until the Nov. 2 Mid-Term Elections, politicians on both sides of the aisle are becoming extremely thin-skinned on hearing anything suggesting unfairness to anybody in the political arena.
Take, for example, what Vice President Joe Biden said the other day. He said the alternative to a democratically controlled Congress is the "Republican Tea Party."
The roof fell in on Biden and the White House.
"I can't imagine any elected official making fun of people becoming highly involved in the electoral process," Bob Corker (R-TN) was quoted in The
Huffington Post
.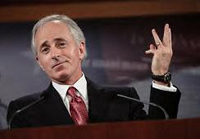 Bob Corker (R-TN)
"I just don't see how that's healthy. And yes, I think people who might criticize people getting highly engaged in the electoral process -- I think that's problematic and I just don't understand why one would perceive criticizing that to be a good thing."
Democrats dealt with the matter a bit more delicately.
"I think there are some fine people who are concerned about the size of the government, concerned about tax structure, concerned about the future," said Ben Nelson (D-NB). "And what we ought to do is have a dialogue."

Ben Nelson (D-NB)
"Accurately analyzing Tea Party supporters can be difficult," said Sen. Bob Casey (D-Pa.). "So I try to avoid kind of broad generalizations or broad categories. It's always dangerous to generalize."
At a fundraiser for Gov. Ted Strickland in Ohio, Biden linked the GOP to the Tea Party, suggesting Democrats will run against the conservative activists.
"Don't compare me to the Almighty, compare me to the alternative," he said to reporters covering the event. "The Republican Tea Party is the alternative."
Biden's approach reflects a strategy being considered by the White House, according to the
New York Times
. The White House, however, denies it.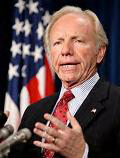 Joe Lieberman (I-CT)
Lawmakers at the Capitol told The
Huffington Post
it's probably a good idea to pursue a new strategy and not to antagonize Tea Party members.
Sen. Joe Lieberman (I-CT) told reporters the grassroots activism we've seen so far is just "the tip of the iceberg," and that while the activist logo of the Tea Party seems to be more linked to the Republican Party, "Republicans, Democrats and Independents are just fed up with our government."
Corker, unsurprisingly, agrees, HuffPost reported.
"At the town hall meetings that I experienced in Tennessee," said Corker, "there was a real sober concern that people had about -- especially debt."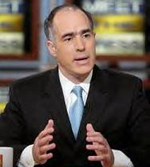 Bob Casey (D-PA)
"Who isn't concerned about our indebtedness right now? It is out of control... I think most of the people who have become highly engaged in this election this year that haven't in the past, have focused on that issue."
"So how can you not agree that that's something that we have to deal with as a country?"
"Are the voters generally fed up with how the country is being run? Yes."
"Do they feel someone else should step in to see if a new slate of faces can turn things around quickly? Yes."
"Is President Barack Obama a one-term president? Yes."
What do you think?
---