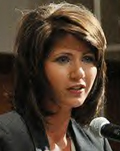 Kristi Noem
Kristi Noem, the Republican nominee challenging incumbent Democrat Rep. Stephanie Herseth Sandlin for South Dakota's only House seat, is being slammed by Sandlin's team for being a reckless, dangerous and devil-may-car automobile driver.
Noem's opponents say she doesn't have the right credentials to enter the national political arena at this time.
Politics Daily
, an online publication, reports Noem, 38, is widely considered to be one of the GOP's strongest candidates this year -- a year where women politicians are grabbing the headlines everywhere.
Noem is beating Sandlin in the regional and national polls.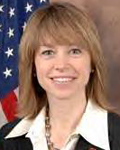 Stephanie Sandlin
She was recently featured in a front page
Washington Post
profile of the South Dakota race.
Noem also topped
Politics Daily
's list of the "Next Women to Watch" in the 2010 election cycle because of her experience as assistant majority leader in the South Dakota House of Representatives.
According to local news reports, Noem's lifetime driving record includes 20 speeding tickets, three stop sign violations, two seat belt violations, and a citation for failing to carry her driver's license.
She has also received six notices for failing to appear in court and two arrest warrants for failing to pay fines related to her tickets. She was stopped by police earlier this year for driving 94 mph.
Noem, a mother of three and a state legislator, told
Keloland.com
she is not proud of her driving record and that she is trying to set a better example for young drivers. She also said she is up to date on all of her fines,
Politics Daily
reports.
"I just feel disheartened we're spending time talking about my poor driving record when we could be talking about the economy and jobs," she said.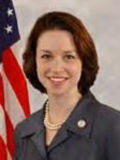 Russ Levsen
Russ Levsen, a senior adviser to Sandlin, blasted Noem for her driving record and said it speaks to the kind of leader she will be.
"Kristi Noem thinks the rules don't apply to her," Levsen told the
Rapid City Journal.
"She repeatedly breaks the law, fails to appear in court and has multiple warrants for her arrest issued. The last thing we need in Congress is a politician who ignores the court dates and racks up arrests warrants."
South Dakota has a sad history of elected officials with troubled driving records.
In 2003, Bill Janklow, the state's congressman and former four-term governor, was convicted of second-degree manslaughter after he was involved in a fatal collision in rural South Dakota.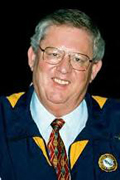 Bill-Janklow
Police said the congressman was driving more than 65 mph when failed to stop at a stop sign, hitting a motorcyclist, who died instantly. Janklow had 12 speeding tickets before that accident.
Janklow resigned his seat in Congress, which Herseth Sandlin won in a special election.
Speeding tickets or not, the voters of South Dakota see something promising in Kristi Noem. She will defeat Sandlin come Nov. 2.
Why? Incumbents are toast this year. Most of the voting public, while not wholly in love with the GOP, has soured on the Democrats for not doing enough to improve the economy.
What do you think?
---