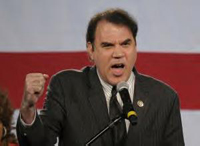 Alan Grayson
The biggest jerk in Congress leaves Washington today the same way he arrived --- blustering all the way.
He is Alan Grayson, the Bronx-born Democratic politician from Orlando, FL who was ousted in the Nov. 2, 2010 Mid-Term elections by Daniel Webster.
The seat was in Florida's 8th Congressional District. Grayson held it for only two years.
Both are lawyers. Their parallels end there. Grayson is noisy and swashbuckling. Webster, also of Orlando, is quiet and unassuming.
Liberal to the core, Grayson clashed with everybody once he arrived on the Hill in 2008. He battled Republicans, fellow Democrats and Independents alike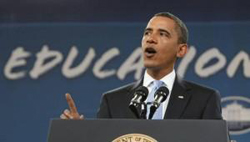 President Barack Obama
He called the Tea Party a creation of the rich.
He criticized Democrats for letting down labor unions and anti-war voters.
He blasted Republicans time and again for traditionally ignoring the working class and repeatedly catering to the wealthy.
He teased the Gays by saying they didn't gain much by having the informal 'Don't Ask-Don't Tell' military rule tossed out by the Congress.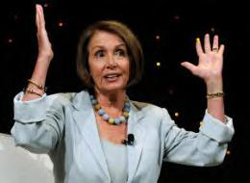 Nancy Pelosi
He mocked the environmentalists and said all they received for their efforts was the White House's promise to put more money into the nuclear power industry and offshore drilling interests.
He trashed President Barack Obama for not keeping promises by reversing a campaign pledge to let the Bush-era tax cuts for the wealthy expire.
But he likes one or three Democrats, like Nancy Pelosi, the departing Speaker of the House.
He naturally doesn't like the incoming Speaker of the House, John A. Boehner. He calls Boehmer a "tool of special interests."
And he did sponsor some good legislation that never won headlines. They included:
Pay For Performance Act (H.R. 1664)
Public Option Act (H.R. 4789)
War Is Making You Poor Act (H.R. 5353)
Shareholder Protection Act (H.R. 4790)
Paid Vacation Act of 2009 (H.R. 2564)

John Boehmer
The New York Times reports Grayson enjoys wearing steel-toed cowboy boots, "the better to kick Republicans with, he jokes."
However, the real joke is on Alan Grayson. He is bye-bye.
What do you think?
---