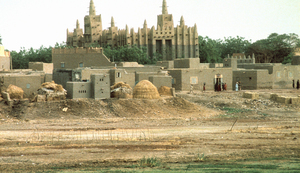 French-speaking Mali in West Africa prepares for the first round of a Presidential Election and a constitutional referendum April 29, but old corruption charges and military instability still plague this republic of 14.5 million inhabitants.
If the first-round vote is close, a second election is scheduled for May 13. Legislative elections will follow July 1 and July 22
About seven million residents are eligible to vote - but they won't be voting for a better quality of life. About half the population lives below the international poverty line of $1.25 a day - despite the country's inventory of natural resources such as gold, uranium, livestock and salt. The country's economic structure centers around agriculture and fishing.
Mali's majority party, the Malian Alliance for Democracy (ADEMA), has picked Parliament Speaker Dioncounda Traore, the current acting president, as its presidential candidate.
ADEMA holds 54 of 147 seats in parliament and has dominated the chamber since former president Alpha Oumar Konare was elected in 1992.
The constitutional project, already adopted by parliament and now being put to the public, foresees the eventual creation of an upper house Senate.
Government coups come and ago in Mali. But the country is trying hard to show the world it is living by most accepted democratic standards.
Former President Amadou Toumani was overthrown in a military coup this year on March 21. He was first elected in 2002 and would have had to step down next year at the end of his second term, if he had not been ousted.
A day later, on March 22, a group of junior soldiers seized control of the country's presidential palace and declared the government dissolved and its constitution suspended.
On April 6, rebels from the National Movement for the Liberation of Azawad (MNLA) declared the secession of a new state, Azawad, from Mali.
The territory claimed by Azawad borders Mali to the southwest, Burkina Faso to the south, Mauritania to the west and northwest, Algeria to the north, and Niger to the east and southeast. It straddles a portion of the Sahara and the Sahelian zone. Gao is its largest city and the temporary capital.
The MNLA officially announced its independence from Mali on its website - but so far, nobody around the world seems to be listening.
Mali's capital, Bamako, is 4,400 air miles from New York City but it's a good bet few Americans are making reservations these days to visit the 479,000 square miles that make up the nation that was once part of three West African empires that controlled trans-Saharan trade; the Ghana Empire, the Mali Empire (from which Mali is named), and the Songhai Empire.