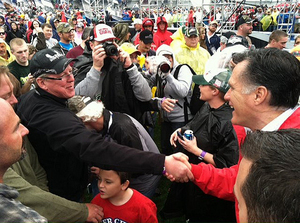 By now, it should be fairly clear to most tube addicts that former Massachusetts Gov. Mitt Romney will be wearing the Republican Party colors when he enters the Presidential Election ring against President Barack Obama in November.
Romney's challengers at this time are only window dressing for the Grand Old Party which should be renamed The Grand Old Radical Party.
Romney won't last one round with Obama. Hispanic and Mexican voters will crucify him. They won't let him forget his strong stand against illegal immigration and amnesty for immigrants who have lived and worked in the U.S. for years without legal status.
Just as a recap, here is what Romney said in a Feb. 8, 2007 Radio Iowa News interview:
"I love immigration. I love legal immigrants coming into our country ... My guess is everybody in this room is a descendant of an immigrant or an immigrant himself. So we love immigration as Americans. Immigration brings us education, new cultures, ideas, innovative talent. It's wonderful to have legal immigration.
"(But) I don't like illegal immigration."
On amnesty, Romney told the Midland, TX Reporter-Telegram Sept. 13, 2007:
"Illegal immigration has got to end and any form of citizenship amnesty is troublesome."
On May 23, 2007, he told Newsmax.com: "The idea of an amnesty-type provision is something I oppose and continue to oppose."
In a Sept. 2, 2011, speech to the Republican National Hispanic Assembly Convention in Tampa, FL, Romney said, "We must stop providing the incentives that promote illegal immigration... As governor, I vetoed legislation that would have provided in-state tuition rates to illegal immigrants and I strengthened the authority our state troopers had to enforce existing immigration laws."
In that same speech, Romney said about illegal immigration at the U.S.-Mexico border: "We must do a better job of securing its borders, and as president, I will. That means completing construction of a high-tech fence, and investing in adequate manpower and resources."
Now I know that many will disagree that the Hispanic and Mexican vote is so important that it will sideline Romney quickly. They argue that the immigration issue is not the key issue in this year's Presidential Election. But I say the immigration issue is important because it is tied to the economy issue which is paramount at this time in voters' minds.
Obama and his gang haven't made great points on the economy, either. In fact, if The Grand Old Radical Party (call them Republicans if you wish) had anyone else but Romney to send into the ring against Obama in November, it would be a toss-up.
Unfortunately for the American voters, they have no other choices at this time. Look for Obama to hold his title for another four years.