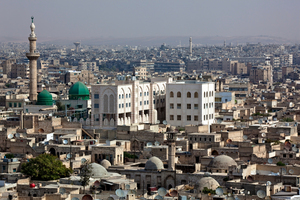 It's a cruel joke that while Syria President Bashar al-Assad orders his military to slaughter their own brothers and sisters, Assad plans to go ahead with Parliamentary elections to the Syrian People's Council on May 7.
The military has murdered 9,000 inhabitants since they started their peaceful demonstrations against the regime 13 months ago. The Assad family has ruled Syria for 40 years.
The May 7 elections were approved in a new constitution by a referendum on Feb. 26. The elections were previously postponed from May 2011 to February 2012. They stand a good chance of being postponed again since Assad's army continues to kill those who oppose the regime.
The 250-seat parliament's term expired last March but it has been extended by country's new constitution. Regime opponents call the constitution a laughable document. The U.S. State Department already has called it a fraud.
In a statement to the media, the head of the Elections Higher Committee Khalaf al-Azzawi said the new constitution marks the first step of a democratic process in Syria.
Under the new constitution, multiple parties would be allowed for the first time under Assad's rule. However, that move seems unlikely in the extreme because opposition to the regime is currently engaged in running street battles with government troops.
Azzawi said in his statement: the elections will be held "with utmost integrity, democracy and freedom so that voters can choose their representatives in the highest legislative authority in Syria".
Melhem al-Droubi, a member of the Syrian Muslim Brotherhood and the Syrian National Council, told Reuters in Beirut by telephone: "Of course we will boycott the elections because they will be fixed.
"But this is not a main focus for us. What we want is real change with a real presidential election, which Assad would surely lose."
If held, the May 7 elections will be the first to follow the constitution's new outline for political plurality, revoking a clause put in place by Assad's late father Hafez al-Assad. Hafez ruled Syria for 30 years until his death in 2000.
The old clause stated that Assad's ruling Baath Party was "leader of state and society". The Baath Party has ruled the country for 50 years.
Under the new constitution, a party cannot be founded on a religious, tribal, regional, denominational, or profession-related basis or be a branch of or affiliated to a non-Syrian party or political organization.
This would exclude the outlawed Muslim Brotherhood or Kurdish parties seeking regional autonomy. In July of 2011, the Syrian cabinet endorsed the general elections bill as part of the government's reform program to tamp down months of unrest.
The bill stipulates the formation of the Supreme Commission for Elections to manage the election process.
The world isn't holding its breath on this one.