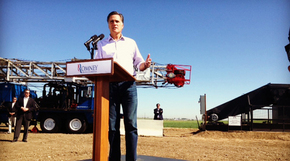 Say what you will, but presidential candidate Mitt Romney won a week of million-dollar headlines from his recent six-day trip to Great Britain, Israel and Poland. The print and electronic media on both sides of the Atlantic blasted Romney for his off-the-cuff comments on current situations in those countries.
For instance, the media chastised the former Massachusetts governor for saying he thought the security and transportation services at the Summer Olympic Games in London were less than first rate.
The media clubbed Romney for his gut remark on the Israel-Palestine issue. Romney said he thought Israel was so much further ahead of Palestine in general development because its culture was different from its neighbor.
And in Gdansk, Poland, Romney praised the country's struggle against communism. He made his remarks at a meeting with Solidarity founder Lech Walesa, the former president of Poland, anti-communist trade union leader and Nobel Peace Prize winner.
But a statement from Solidarity headquarters later in the day noted Romney in the past had supported trade-union busting and attacks on employees' rights. Walesa wished Romney success in his November bid to unseat President Barack Obama.
When he returned to the U.S., Romney announced he was pleased to be named honorary chairman of a Jewish American coalition newly formed to support his campaign. His staff hopes voters will forget that Obama garnered 72 percent of the Jewish vote in the 2008 election.
Although that 72 percent number equates to only about 4 percent of the entire voter registration in the U.S., there is no argument that the Jewish vote in key states has often turned the tide for presidential hopefuls.
So has the vote by Hispanics and African-Americans. What, no Romney visit to South America or Harlem?
Sure, by his six-day foreign visits, Romney hopes to win some fraction of the Jewish-American, Polish-American and British-American vote in this country. But that's less than a drop in the bucket compared to what Obama will achieve.
Still, that is not the point. Romney is not presidential material. Neither is Obama at this stage of his administration. But outside of those two, there is no one else around.
Yes, you might say the Bushs, George H.W. and son George W., along with Harry S. Truman, Jimmy Carter, Gerald Ford and Richard Nixon, also could not be considered presidential material when they landed in the White House.
But to my recollection, they didn't goof as often as Romney has in this campaign. And while the media in those days were just as harsh on them as they are today on both Romney and Obama, the media sting didn't seem to bite as deep.
I don't fault Romney for making that six-day hop to foreign capitals, but I am wondering if he and his people expected some of the harsh media treatment they received overseas. Like this one from the London Sunday Times writer Rod Liddle:
"Have you ever seen the film Being There, in which Peter Sellers plays a vacuous imbecile, who through a series of misunderstandings, ends up poised to become president?
"This is what awaits if Romney is elected. We can only pray that M16 (the British version of the FBI) didn't actually tell him anything sensitive during that briefing he blabbed about, as it will surely end up dribbling out of his undisciplined mouth.
"Don't over-estimate the American public. Half the people who are allowed to vote over there think Forest Gump was a documentary."
Romney as president? Not even Forest Gump would think so at this stage.