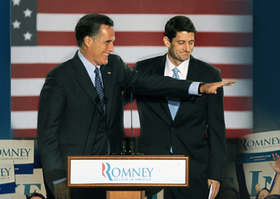 Just make believe for one moment, please.
It's the seventh game of the World Series. The Obamas and the Romneys are tied at three wins apiece. Now it's the last half of the ninth inning. The Obamas lead 4 to 1.
The bases are full. A triple will tie the score. A homerun will win it. Romney is at bat. He lets the first pitch go by. Strike one. He lets the second pitch go by. Strike two. Third pitch comes in shoulder high. Romney swings - and misses. Strike three. Game over.
That's what happened at Tampa Stadium Thursday night (Aug. 30). Romney didn't hit a homerun with his presidential nomination acceptance speech before an estimated 50,000 Republic Party delegates. His rhetoric was fine. It just wasn't convincing.
Instead, his speech was a checklist of things he would do if elected president. It wasn't a road map of how he would get those things done. But that's what an estimated 10 million worldwide television viewers were hoping to hear.
As one Talking Head put it, the speech was all dessert with no vegetables or meat.
"I plan to create 28 million new jobs," he said. But he didn't say how he would do that.
But give the former governor of Massachusetts points for trying. He tried hard to deliver his best pitches. The problem was they weren't fast balls.
"President Obama promised (in 2008) he would slow the rise of the ocean and heal the planet," Romney said. "My promise is to help your family."
He startled a few in the crowd by declaring "nearly one out of six Americans is living in poverty." An NBC fact-checker found that wasn't quite right.
Romney spoke about his early family upbringing and the Mormon Church which he embraces passionately, he says.
And that brings up another prickly point in the Romney speech presentation. Having representatives of the church come to the podium and discuss the religion's mission isn't the sort of thing most Americans expect to see and hear at a national political convention.
Romney also spoke fervently about his wife Ann to whom he has been married for 43 years. He is 65. She is 63. They have five boys. Romney praised her work as a mother and her participation in numerous community activities. "She can succeed at anything she attempts," Romney said.
Ann Romney's speech attempted to humanize her husband. She wanted viewers to learn that he was not as stiff and impersonal as he is often portrayed by the national media.
"This man will not fail," she said. "He is a warm and loving and patient person...You can trust Mitt." She especially directed many of her comments at women. "I love women," she said. "And so does Mitt."
Current polls show the undecided vote in the nation will decide the presidential election Nov. 6. Polls also claim about 63 percent of the undecided vote is made up of women. One of Mitt Romney's biggest hurdles is to overcome opposition from white, college-educated women, according to several Talking Heads.
Ann Romney's speech received a rousing ovation. She said she was "speaking from the heart." She emphasized, "I want to talk to you (tonight) about love." She said "this wonderful country" was created with love and that her husband was running for president because of his great love for America.
However, another main speaker didn't quite buy that proposition. New Jersey Gov. Chris Christie also spoke of his early upbringing and the fact that he is a Republican running a state with a Democratic majority in the legislature.
Christie suggested "respect was even more important than love" in governing a country or state. He suggested the reason he has been so successful in New Jersey is that voters had respected for him as a person and for his policies. He said Mitt Romney will do the same for America.
"We are taking our country back," Christie vowed.
Like Ann Romney, Christie's speech received rousing cheers. So did the speech from Rep. Paul Ryan of Wisconsin. Ryan is Romney's vice presidential selection.
Several of Ryan's talking points on the Detroit auto industry, the 2008 banking crisis and the deficit reduction controversy lacked factual backup, according to a later NBC fact-checking report. In other words, they were distorted truths.
Probably the same situation will occur when the Democratic Party's convention is held in Charlotte, NC next week from Tuesday Sept. 4 to Thursday Sept. 6.
Romney gets three more opportunities to show his best side to American voters when he debates President Barack Obama in separate debates Oct. 3, Oct. 16 and Oct. 22. They will be held at different university campuses.
Probably the most incisive observation on the Romney speech, the Romney campaign and the Grand Old Radical Party, came from Thomas J. Friedman, an author and political columnist at The New York Times. A guest on the Charlie Rose Show, Friedman said:
"Romney is renting the GOP. And the GOP is renting Romney. Neither trusts each other."