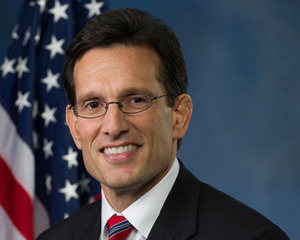 Not since 1899 has a House Majority Leader in the U.S. Congress lost an election. But it has happened now.
Eric Cantor, 51, in Congress since 2001, lost his Seventh District Congressional seat Tuesday, June 10, to Dave Brat, 49, a Tea Party candidate and an economics professor for almost 20 years at Randolph-Macon College in Ashland, VA.
Brat garnered an estimated 56 percent of the vote to Cantor's 44 percent total.
Cantor even lost his home county, Henrico, by almost seven points. His own pollsters had reassured him that he had at least a 13-point lead just prior to the voting.
Cantor said he would step down from his $193,400 leadership job July 31. He is considered by some as the second most powerful Republican in the U.S. House. Cantor was considered a serious rival for House Speaker John Boehner's job when and if Boehner ever steps down.
Vying for Cantor's position will be California's Rep. Kevin McCarthy, a close Cantor friend, and Rep. Pete Sessions of Texas.
The Virginia race marked the most controversial U.S. political contest to date this year. Several other upsets are being predicted in later primary and general elections.
Another odd aspect to the Cantor-Brat race is that Brat's competition this fall will be Democrat Jack Trammell, also a professor at Randolph-Macon College.
Cantor has been House Majority leader since 2011. Sometimes referred to by his critics as the least likeable legislator in Congress, Cantor spent an estimated $5.4 million in the Virginia campaign. Brat spent about $230,000.
The National Rifle Association, the National Association of Realtors and numerous Wall Street corporate executives backed Cantor. Brat's endorsements included several right-wing figures. Talk show host Laura Ingraham was one of them.
Cantor's critics lay his defeat to his time spent on super-fund-raising talents for the GOP instead of paying more attention to his home district constituents. In Washington, he was recently reported spending about $170,000 for a single gala restaurant dinner attended by wealthy Republican supporters.
Critics note Cantor was even politicking in Washington this week when he should have been talking to voters in his home Virginia district.
Cantor and his GOP colleagues continued to run into snags in trying to sway Latin voters on the highly-charged immigration issue. Cantor had backed a plan to provide citizenship for about 11 million immigrant children who had been brought to the U.S. by their parents. But he never followed through and that plan died.
Although religion did not play a part in the Virginia primary, critics note Brat often alluded to his Catholic upbringing at several campaign locations. Cantor is the lone Jewish Republican in the House.
Critics continue to label Cantor as a do-nothing legislator. He opposed nearly everything the Democrats offered over the years and supported very little, critics charge.
Cantor was a news-making personality during most of his 13 years in the Congress. Look for him to continue to be one when he leaves the political arena.