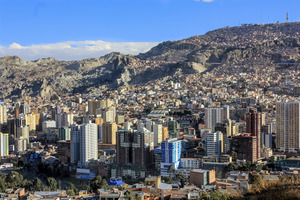 When the talk comes around to dictators in the present world, socialist Evo Morales of Bolivia has to be counted among the top 10. Controlling the print and electronic media, advertising of any stripe and the public's right to peacefully protest anything, Morales is shooting for his third five-year term in the Oct. 12 presidential election.
He became the country's first president of Indian descent when first elected in 2005.
In 2008, he changed the country's constitution to allow him to run for another five-year term, instead of stepping down after 10 years of largely dictatorial rule. His party is called the Movement Toward Socialism or MAS.
According to various pollsters and newspapers in Bolivia, he is expected to win by at least a 60 percent margin, more than enough to capture the presidency on the first round of voting. A 40 percent favorable vote is considered a majority return.
Also in the running are Juan del Granado of the Movement Without Fear Party; wealthy businessman Samuel Dora Medina of the Democratic Union; Fernando Vargas of the Green Party of Bolivia; and Jorge Quiroga of the Christian Democratic Party. Quiroga was Bolivia's president from mid-2001 to mid-2002.
None are expected to come even close to Morales' final vote count. None are even allowed to challenge or criticize Morales in either print, television or billboards because, they charge, Morales has blocked all such efforts and will continue to do so right up to election day.
One thing is absolutely clear: He is no favorite of the United States. His close ties with the leftist governments of Venezuela and Cuba have predictably antagonized the United States.
Morales once referred to himself in a public speech as "the United States' biggest nightmare."
That reference was to his aggressive stance in nationalizing all major industries in Bolivia, including gas and oil; placing a damper on foreign investment but giving the country continued new revenue sources and enlarging Morales's own bank account at the same time.
The United Nations Economic Commission for Latin America and the Caribbean has reported Bolivia's gross domestic product rose an average of 5% since 2006 on strength in the natural gas and minerals sectors. The same agency has predicted Bolivia's economy will expand by 5.5% this year.
Morales says he also plans to once again legalize the growing of coca from which heroin is derived. He also envisions nationalizing the nation's railways. Coca growing had been banned under previous administrations, putting thousands of Bolivian growers and farmers out of work.
Although he calls himself an Indian activist, two third's of Bolivia's 10 million residents are Indian and among the poorest in South America. The other third of the population, the wealthier group, is comprised of European descent.
Modern Bolivia, landlocked and equal in size, 419,000 square miles, to the combined acreage of California and Texas, was once a part of the ancient Inca Empire. Brazil forms its eastern border; its other neighbors are Peru and Chile on the west and Argentina and Paraguay on the south.
After the Spaniards defeated the Incas in the 16th century, Bolivia's predominantly Indian population was reduced to slavery, according to historians.
Income inequality between the largely impoverished Indians who make up two-thirds of the country and the light-skinned European elite, who comprise one third of the population, remains vast even to this day.