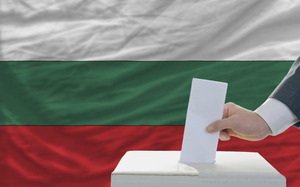 After changing governments four times in the last 18 months, an estimated 6.9 million registered voters have signed up to vote in Bulgaria's Oct. 5 Parliamentary Elections. Only about 60 percent are expected to actually show up at the voting booths.
Bulgaria is the poorest country in the Europe Union of 15 nations. Its estimated 7.28 million residents daily suffer from astronomical food and product inflation, sky-high power bills, government corruption and alleged banking frauds. The country's financial crisis is the worst since 1990.
At stake in the elections are all 240 seats to the National Assembly;121 seats are needed for a majority.
When you think the United States is often criticized for having too many political parties - the Republicans, Democrats and the ersatz Tea Party -- it is laughable to study Bulgaria's roster of 22 parties and seven coalitions that will be vying for Parliamentary seats.
Boiko Borisov, leader of the center-right GERB Party and Bulgaria's former prime minister, is the frontrunner in the Oct. 5 elections.
Although his party is expected to win about one third of the votes, he also knows no single party will garner a majority in the National Assembly. He already has announced he is ready to hold talks with other parties after the vote to form a grand coalition government.
Borisov also said Bulgaria's Central Bank Governor Ivan Iskrov should resign the day after the election for his handling of troubled lender Corporate Commercial Bank, the fourth largest bank in the country.
He says nobody knows how many bad commercial loans the bank approved over the years. The bank has been closed since June 20.
Over 200,000 depositors have had their money blocked at CCB for more than three months now and have been staging protests in the past weeks demanding access to their accounts.
Borisov's center-right government was forced to resign in February 2013. A caretaker government has been running the country since then.
Borisov, a former bodyguard and karate expert, says if he is named to head a coalition government, he will propose legal changes to safeguard the independence of the energy regulator. That would ensure that prices would not be kept artificially low because of political pressure.
Instead, Borisov says his party, GERB, plans to offer energy aid to the poorest and overhaul ageing communist-era apartment buildings, home to 700,000 households, to cut energy consumption.
That sounds laudable but whoever wins in October faces a raft of challenges, including reviving a sluggish economy, cleaning up corruption, plugging a gaping deficit in the energy sector and unfreezing blocked EU funds.
Bulgaria historically has been regarded as a popular European tourist haven. Russians, especially, like to visit the country which sits in southeastern Europe. It is bordered by Romania to the north, Serbia and Macedonia to the west, Greece and Turkey to the south, and the Black Sea to the east.
And, oh yes, Sofia, the 2,400-year-old capital with an estimated population of 1.2 million and offering numerous mineral and thermal health-oriented springs, is only 4,710 air miles from New York City.
Anybody lining up for first-class plane tickets? Didn't think so.