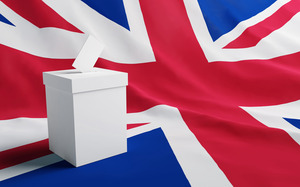 These aren't the best of times for Britain's Prime Minister David Cameron. His controversial Conservative Party, which jointly rules the country with the equally controversial Labor Party, face a May 7 general election that could change the entire face of the 650-member House of Commons. British voters are generally displeased with the performance of both parties.
Cameron has headed his party since 2005 and has been Prime Minister since 2010. Ed Miliband has led the Labor Party since 2010. The Conservatives and Labor have been Great Britain's most influential political parties since the 1930s. But now smaller parties, like Nick Clegg's Liberal Democrats, are receiving more scrutiny from British voters.
The right-leaning Conservatives hold 303 seats; left-leaning Labor, 257 seats; and the Liberal Democrats, 56 seats. Smaller parties, like the Scottish Nationalist Party (SNP) and the EU UK Independence Party (UKIP), make up the balance of seats in the House of Commons.
Although Cameron has some strong pluses going for him in the elections, like Britain's $2.8 trillion economy, many voters have struggled with rising food costs and heating bills. Voters also note that while the falling cost of oil has helped take inflation to a 12-year low, inflation still has outpaced wages for much of Cameron's five-year term in office.
On top of those issues, there continues to be a growing anti-European feeling among many voters in Great Britain, Scotland, Wales and Northern Ireland which make up the United Kingdom. That feeling could translate to voting in a party that most closely sides with their points of view.
The Conservatives and Labor could both lose some seats in the May elections but they wouldn't be as bad off as the Liberal Democrats which could lose all of their 56 seats. The result would be a hodge-podge coalition of parties that would eventually rule the country.
Pollsters see Cameron in for another five years as Prime Minister. But managing a coalition of parties, each with different missions and ideologies, could turn out to be a fragile juggler's act for Cameron. If it becomes too much for him to handle judiciously, Cameron could decide to call still another general election.
Even opinion polls are having a difficult time trying to decide the eventual winner. The Opinion Poll, commissioned recently by the London Observer, a Sunday-only newspaper, finds voters are placing Labor ahead by a hair with 33 percent; the Conservatives, 32 percent; and the Liberal Democrats, 8 percent.
With a patched coalition of parties, Britain could face a political hurricane as it experienced in the 1970s. Parliamentary power in that period changed hands three times through four national elections and four prime ministers.
As they munch on their beloved fish 'n chips dinners, many Brits fear that's exactly what could happen in the coming months.