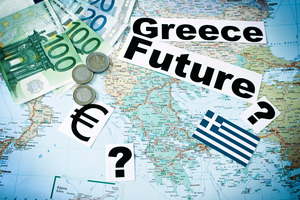 Greece, considered by historians as the cradle of democracy, is riding a rocky economic boat as it heads for the Jan. 25 Parliamentary elections. Rocky because it already owes the European Union and the International Monetary Fund a combined second bailout total of 240 billion euros ($292 million U.S.) and may need a third bailout sum of six billion euros ($7.2 billion U.S.) to keep from declaring itself a bankrupt nation.
Greece, a Biblical-times nation with a population of 11 million, also would have to find an additional two billion euros in economic cuts in addition to four billion euros in cuts already planned in the draft budget. (One euro equals $1.48895 U.S.)
Governments and investors across Europe are bracing for renewed economic upheaval in Greece following the Jan. 25 vote.
At the same time, investors are monitoring the economic lifelines of European Union's second and third largest members, France and Italy. Skeptics suggest those two countries could follow Greece's shaky economic path at some point.
Meanwhile, various political parties in Greece adamantly refuse to accept any further economic cuts for their constituents. Unemployment has reached 30 percent. Family incomes are down 33 percent from their 2008 levels.
The Jan. 25 vote marks a showdown between the conservative New Democracy party of Prime Minister Antonis Samaras, who imposed unpopular budget cuts under Greece's international bailout deal, and the radical leftist Syriza of Alexis Tsipras, who wants to cancel austerity along with a chunk of Greek debt.
Tsipras is the most vocal in rejecting further austerity measurers for Greek's population. Syriza is expected to emerge as the dominant party Jan. 25 but it will still have to align itself with a smaller party or parties to rule Parliament.
Tsipras is so sure of victory, he already is telling his associates he plans to ask the European Union and the International Monetary Fund to "forgive" a big chunk of the $292 billion debt Greece currently owes. On the balance of the money, Tsipras wants that sum negotiated.
How is that for chutzpah? Here's a country going down the economic drain and its leaders demand their creditors forget about the life-saving loans they made in Good Samaritan spirit.
Jockeying for third place behind Syriza, now the main force on the Greek left, and New Democracy party, are the far-right Golden Dawn, the KKE Communist party, PASOK and To Potami. Golden Dawn's party emblem is a copy of the swastika but the group denies it is neo-Nazi.
If Greece goes bankrupt, it will be voted out of the 28-member European Union and probably replaced with Bosnia and Herzegovina. Germany, the strongest member in the EU, is beginning to get fed up with bailing out Greece time and again since the Southern European country fell into economic depression in 2008.
Germany already has advised Greek politicians it expects the winning party Jan. 25 to live up to repaying its total debt with no renegotiations or forgiveness on the debt total on the table.
A rocky road for Greece also because the country's fate as a member of the European Union hinges largely on which political party emerges the strongest Jan. 25. The Parliamentary elections are being held because the current parliament failed to elect a new president Dec. 29. Voters are being asked to elect all 300 members to the Hellenic Parliament.