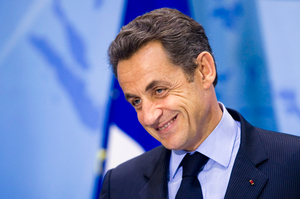 Nicolas Sarkozy, the 59-year-old, 23rd President of France from May 2007 to May 2012, is back in the political arena, seeking to reclaim in 2017 the Presidential throne he lost four years ago to the current President François Hollande.
Akin in some political respects to America's former President Bill Clinton, Sarkozy is hated on the left and tolerated on the right as head of his Union for a Popular Movement party (UMP). He is often referred to in the French press as Slick Sarko, just as Clinton was once dubbed Slick Willie by some creative journalists in the U.S.
Sarkozy is sometimes compared to Clinton because he is trying to bounce back from a myriad pile of allegations that his failed 2012 campaign was replete with fraudulent financial deals. Sarkozy denies all of the allegations but continues to be served with summonses to appear in various courts hearing the cases
Clinton, the 42nd President of the U.S. from 1993 to 2001, survived widely publicized sexual misconduct allegations and impeachment charges of perjury and obstruction of justice in 1998.
Besides his flamboyant political style, Sarkozy, wealthy in his own right with a previously announced net worth of $2.4 million (U.S.), is also criticized by opponents for preaching family equality yet going through two marriages by divorce before entering his third marriage in 2008 with Italian-French singer-songwriter and former fashion model Carla Bruni-Sarkozy.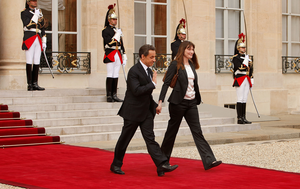 Bruni-Sarkozy is heiress to the fortune created by the Italian tire manufacturing company CEAT by her legal grandfather, Virginio Bruni Tedeschi. The company was sold in the 1970s to Pirelli, a worldwide brand at the time.
Always immaculate in dress, Sarkozy, however, may face a bruising, knock-down-style of campaigning by his opponents, beginning with the primary elections in 2016 and ending with the Presidential election in 2017. Despite his decisive victory on Nov. 29 to retake control of his UMP party with 65 percent of the vote, Sarkozy's path to the 2017 presidency is expected to be more perilous.
For example, this top opponent may turn out to be his former colleague turned arch-foe Alain Juppe, a popular politician and one-time prime minister who served as defense and then foreign minister under Sarkozy.
Then there is Jean-Marie Le Pen to contend with. Le Pen has been repeatedly convicted for inciting racism and Holocaust denial. But today, as the party's honorary chairman, he welcomes a third generation to his far-right National Front party founded in 1972.
She is his niece, the blonde 24-year-old Marion Marechal-Le Pen, daughter of the party's founder. The National Front made gains in local and European elections this year. Marion's aunt, Marine Le Pen, was re-elected party boss on Nov. 30 with a Soviet-style 100% of the vote. Marine has bossed the party since 2011.
A recent poll showed the Marion Le Pen would win the first round of voting in 2017 with 30 per cent. President Hollande, meanwhile, is getting beat up in various opinion polls and is not expected to be anywhere close to retaining his elaborate Elysee palace office.
Slick Sarko, meanwhile, continues to remain upbeat about his chances of winning back the throne.