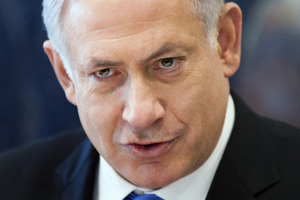 It could have been a scenario for a prize-winning television sitcom. The stars are Israeli Prime Minister Benjamin 'Bibi' Netanyahu, 65, and U.S. President Barack Obama, 47. The bad guy is Iran and its nuclear program.
Netanyahu, in power since 2009, through his right-wing Likud Party, is running for his fourth term in Israel's 20th parliamentary elections March 17, 2015. Obama, at his country's helm since 2008, leaves office in 2016.
The two leaders have never enjoyed a cordial personal relationship. Netanyahu is aggressive in his views. Obama, when he can, prefers to play it down the middle on most social, economic and foreign relations issues.
See related story: Obama Strategist Could Fire Up Israeli Elections
But now, a serious rift, or call it a grave misunderstanding, has developed between the two. The outcome could end Netanyahu's role as Prime Minister or it could solidify his position for another four years at least.
The issue: Did certain so-far unnamed Israeli politicians purposely leak critical negotiations data to Iran on its controversial nuclear enrichment program?
Six international powers, including the U.S., Russia, Britain, China, Germany and France have been negotiating with Tehran for the past 18 months to cement a deal that would limit Iran's capability to produce a nuclear weapon.
In exchange, the countries would gradually lift all or most of the economic sanctions that have been crippling Iran for the past two years.
By knowing in advance what the six countries would be willing to offer, Iran would be in a stronger bargaining position that it would otherwise be. A final draft of the agreement has to be in place by March 24. The deadline for closing the deal is June 30.
That is why Netanyahu's unprecedented pre-election visit to the United States Tuesday March 3 grasped the attention of the entire political universe.
Netanyahu had accepted an invitation three months ago from House Speaker John Boehner, a Republican from Ohio, to present his views to the Congress on the Iran negotiations. The visit was loudly criticized by Obama and his administration because it is so close to the Israeli elections.
Netanyahu's visit to the Congress from the House of Representatives is historical. According to several historians, the only comparable precedent occurred in 1824. President James Monroe had invited much-decorated French diplomat, military hero and outspoken Marquis de Lafayette to visit Philadelphia and all 24 states in the union at that time.
For his part, Netanyahu has repeatedly denied knowing of any Israeli leaks to Iran. His position has always been that the U.S. and the five other powers should prohibit Iran from conducting any further nuclear enrichment programs.
In his talk to the Congress and a day earlier to the Israel Public Affairs Committee, a Washington-based pro-Israel lobbying group, Netanyahu compared Iran to Adolph Hitler's Nazi Party of the 1930s.
He said Britain's Prime Minister Winston Churchill had warned the world what Hitler's plans were to conquer the world. But few Western nations and leaders, including U.S. President Franklin Delano Roosevelt, paid attention. Then, on Sept. 1, 1939, Hitler invaded Poland and the Second World War was on its way.
Now, Netanyahu said, Iran was on a similar path unless it was stopped. He said he had only a three-step strategy. One, halt all negotiations with Iran because that country cannot be trusted to abide by any agreement. Two, increase the sanctions to further harass Tehran. And three, if the first two steps don't work, use military might to crush Iran's underground nuclear forts forever.
Netanyahu says the planned deal with Iran "doesn't block Iran's path to the bomb. It paves Iran's path to the bomb."
Obama, however, says Netanyahu's strategy is so far off base, it is not worth discussing rationally. Obama did not attend Netanyahu's speech, nor did he plan to invite him to the Oval Office, a clear political slap in the face at the Israeli visitor.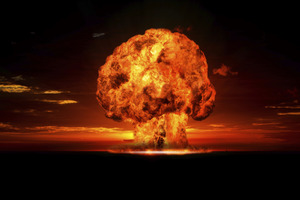 Obama believes negotiations with Iran is the only road that will lead to a peaceful solution to that country's nuclear program. The President says even if Israel, or its allies, destroy Iran's underground bunkers, Iran would still have the know-how to create newer nuclear laboratories in the near future.
The deal Obama and the five other countries are trying to craft would run for 10 years. Iran would have to agree to limit its nuclear research for civilian purposes only; provide for strict international inspections; and reduce its stockpile of enriched uranium.
Obama ruled out all military options against Iran.
Even as the Netanyahu-Obama tussle was taking place, Iran's Foreign Minister Mohammad Javad Zarif denied his country was making a nuclear bomb.
In an exclusive interview with NBC reporter Ann Curry in Manteaux, Switzerland, Zarif said his country "has no bomb, was not planning to make a bomb" and that Netanyahu was creating "hysteria" to undermine the negotiations.
Zarif and U.S. Secretary of State John Kerry were in a second day of talks in Manteaux, Switzerland on curbing Iran's nuclear program.
The secrets allegedly disclosed by unnamed Israeli sources would have the big Six powers permitting Iran to keep 6,500 or more of its 19,000 centrifuges. Centrifuges are machines that create enriched uranium. At high-level grades, the enriched uranium can be used as bomb fuel.
There are five established political parties in Israel. They are the right, center, left, ultra-orthodox (Haredi) and the Arabs.
The right consists of Likud (Netanyahu's party), the Jewish Home and Yisrael Beiteinu. In the center are Yesh Atid and Kulanu. The left parties are the Zionist Camp (a union of Labor and Ha'tnua) and Meretz.
Netanyahu's strongest opponent in the March 17 elections is Isaac Herzog, head of the Labor Party. Labor had governed Israel for 25 years before the late Prime Minister Menachem Begin formed the Likud Party from four smaller parties in 1973. That has been a sore point with Labor Party leaders ever since.
Now Herzog and former peace negotiator Tzipe Livni lead the Zionist Camp alliance and aim to bring the Labor party back to power for the first time since 2001. The Knesset, Israel's Parliament, houses 120 members.
According to the most recent opinion poll from the Washington Post's Political Desk, Likud and the Zionist Camp are neck-and-neck for the lead. Likud will wind up with 24 seats; Zionist Camp, 23.
The poll indicates Jewish Home will win 13 seats; United Arab Party, 13; Yesh Atid, 9; Shas, 8; Kulanu, 8; UTJ 8; Yisrael Beiteinu, 6; Meretz, 5; and Yachad, 4.
In such a close race, the question becomes: Can either Likud or Zionist form a successful coalition among the other parties to rule the country?
My money is on Benjamin Netanyahu and the Likud Party.
And that's the way it is at this moment.