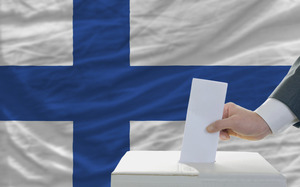 Timo Soini stands six-foot-two and weighs 250 pounds. He also stands out in a crowd, any crowd, especially one that talks politics in Finland. He frequently hoists a pint of the local brew in one hand as he speaks and waves to onlookers, largely from the country's working class.
Soini's party, the True Finns, is considered a long shot to win the April 19 general elections in a country whose population of 5.5 million has an estimated four million registered voters.
At the same time, nobody is ruling out Soini's right-wing nationalistic party at this stage, despite the renewed strength of Prime Minister Alexander Stubb's center-right party that heads the coalition government.
The party's name, True Finns, translates loosely to 'ordinary' or 'regular' Finns.
Soini's 20-year-old party shocked citizens of the small northern Europe nation in 2011 when it emerged from near-obscurity to become the third-largest political party in Finland. They had won 39 of the Finnish Parliament's 200 seats, compared to just five in 2007.
To win majority control in Parliament, 101 seats are needed. Few parties can hit that mark. That's why strong coalitions are sought in advance of elections to run the government.
But this time around, the True Finns face daunting challenges. For example, they have refused to enter a coalition with Finland's two other largest parties, the National Coalition and the Social Democrats.
The reason: They differ sharply with the policies of the 28-member European Union to which Finland belongs. The National Coalition Party backs supporting the weak economies of Portugal and Greece.
The True Finns maintain using Finland's money to support comparable causes is just throwing away Finnish taxpayers' money to the European Union.
Besides not having a coalition partner going into the elections, Soini's party also has suffered a string of public controversies, beginning in 2013.
At that time, the True Finns' Member of Parliament, James Hirvisaari, was expelled for photographing a friend posing in a Nazi salute outside Parliament. He had previously been reprimanded for making numerous alleged racist and anti-Islam comments.
Another high-ranking Finns Party MP, Jussi Halla-aho, has been investigated several times for inciting racial hatred.
Soini's appeal to the Finnish working class may have given his party its surprise jolt in parliamentary seats count in 2011. But its popularity also soared after newspaper exposes on the Center Party's questionable corporate campaign funding in 2007.
But today, the Center Party has bounced back. Opinion polls give them a 25 percent popularity rating, up from 15 percent at the time of the funding scandal eight years ago. The True Finns, meanwhile, are mired in a 14 percent ranking.
Finland's Prime Minister Stubb came to power in June 2014, after his predecessor Jyrki Katainen stepped down as Prime Minister and party chairman.
Stubb's coalition of five parties lost one party in September, when a majority of his cabinet approved a nuclear power plant that will be constructed by a Russian state company.
A growing number of Finns don't like that scenario at all. That is the opening that could push Soini's party once again to the front of the line.
Possible election campaign issues include the effect of Russia sanctions on the Finnish economy, NATO membership, and immigration.
Finland, officially the Republic of Finland, is bordered by Sweden to the west, Norway to the north and Russia to the east. Estonia lies to the south, across the Gulf of Finland.
Can Timo Soini pull it off on April 19? I don't think so but his party could make it an interesting race.
And that's the way it is at this moment.