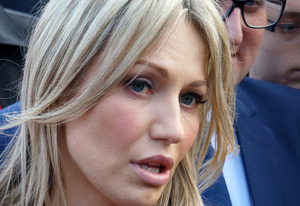 Thirty-five-year-old Magdalena Ogorek has the looks and body of a Hollywood starlet--and that is unnerving her rivals as the May 10 Presidential race in Poland heads for the finish line. A recent provocative layout of her in Playboy magazine also infuriated opponents, jealous of the widespread publicity the former television presenter is generating.
Ogorek represents the Polish Social Democratic party. Her opponents are livid. Some fear she will either defeat incumbent President Bronislaw Komorowski in a stunning victory. Others bristle at the prospect of Ogorek snatching away valuable votes from them even if she doesn't place too strongly at the polls this time.
They fear whatever political progress she may make will also strengthen any plans she may have in the October Parliamentary elections. She failed to win a parliamentary seat in the 2011 elections. Her only political expertise was serving internships in various government ministries when she was in her twenties. In that period, she also worked as a small-time TV actress.
Besides her good looks, Ogorek is also an author and lecturer who was, until recently, a media consultant to Poland's central bank. Her competition points to her limited political experience. They also mock her surname that translates as "cucumber." Tame by American standards, such are some of the dirty tricks in Polish political circles.
Ogorek's campaign team dismisses the criticism hurled against her and instead focuses on motivating younger voters to embrace the Social Democrats and lead Poland into a new economic and social direction.
That mission, however, has also caught the attention of the once powerful Sojusz Lewicy Demokratycznej (SLD) Party. The SLD led Poland only a decade ago as one of Europe's traditional center-left groups. When austerity measures kicked in, following the 2008-2009 worldwide financial crisis, the SLDs lost credibility with the bulk of the voting community.
Now the SLD thinks, as a leftwing party, it may have a chance to regain its former popularity among Poland's large working class and powerful trade unions. To do that, the SLD will have to overcome strong Catholic tradition that has pushed the right wingers to dominate politics in Poland over the past 10 years.
The SLD also had to overcome a bribery scandal over alleged associations with Russian spy agencies. But the SLD has had some positive achievements as well. For example, in 2000, the party's leader, Aleksander Kwaśniewski, won the presidency in the first round of voting, the first and only time this has happened in democratic Poland's history.
Will Magdalena Ogorek pull off a surprise victory May 10th? I don't think so, but her presence on the Polish political stage at this time has given hope to smaller political groups who also are beginning to promote and publicize younger and more appealing politicians.
And that's the way it is at this moment.