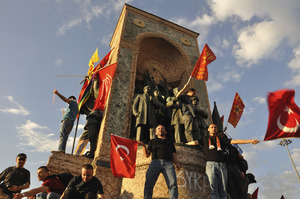 The results of Turkey's June 7 national elections involving 550 parliamentary seats could end the political life of President Recep Tayyip Erdogan - but don't bet on it.
The 61-year-old controversial voice of Turkey's government is campaigning hard for the Justice and Development Party (AK Party) he founded in 2001 - even though he personally is not on any ballot.
Erdogan led his party to three general election victories in 2002, 2007 and 2011, before stepping down as party leader after his election as President in 2014.
As the country's 12th president, his role officially is supposed to be largely ceremonial. The strong man is supposed to be Prime Minister Ahmet Davutoğlu. But Davutoglu doesn't hog Erdogan's limelight.
That leaves Erdogan to appear to the world as the formal head of Turkey. He has been in the limelight a long time.
He previously served as Prime Minister from 2003 to 2014 and as the Mayor of İstanbul from 1994 to 1998. Erdogan comes from an Islamic political background. He says he is a conservative democrat but his administration has overseen liberal economic and socially conservative policies.
Erdogan is hoping the ruling AK Party will win at least two-thirds of the 550 seats in the assembly, allowing it to change the constitution and create a strong executive presidency.
But according to recent informal opinion polls, the AKP could fall short of a two-thirds majority and could even fail to win the 276 seats required for a simple majority.
Financial analysts and international marketers who follow Turkey's politics closely say the election is also crucial for the pro-Kurdish Peoples' Democratic Party (HDP). The HDP hopes to pass the 10 percent threshold required to enter parliament. Previously, Kurdish opposition candidates ran as independents to skirt the rule.
If the AKP is forced into a coalition by winning fewer than 276 seats, the party could be forced into a coalition for the first time. The Kurdish party has been mentioned as one coalition member possibility, especially if it wins more than 10 percent of the seats. Investors and the AKP particularly don't like that scenario.
They would be more comfortable with a coalition partner like the right-wing Nationalist Movement Party (MHP). But there is a problem with that playbook.
Leaders of both the HDP and the staunchly secularist main opposition Republican People's Party (CHP) have separately told Reuters they would be unlikely to form a government with the centre-right, Islamist-rooted AKP.
World leaders will be closely monitoring the elections. Over the years, Turkey has sided on various issues and at various times with the United States, China, Iran, Russia and Pakistan. Although a NATO member, Turkey hasn't always come to the defense of some of its NATO allies.
In the current global political game, Turkey is the wild card. And Recep Tayyip Erdogan is the wild man.