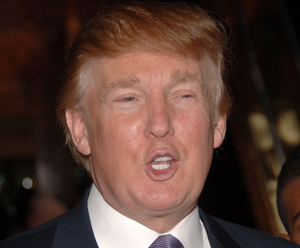 They came to see a show and just as predicted, Donald J. Trump gave them one. The 69-year-old New York real estate developer won applause and also boos as he clearly dominated the debating platform at the 20,562-seat Quicken Loans Arena in Cleveland, OH Thursday night.
The two-hour event could have been advertised as The Donald Trump Show.
Trump responded to queries from a Fox TV Channel host and nine other candidates fighting to win the Republican Party's nomination in the Nov. 6, 2016 Presidential Election.
The New York Times estimated Trump dominated the debate with more air time than other candidate, speaking three times as often as his rivals. This is precisely what the other candidates had feared, going into the debate, knowing that Trump's 24 percent lead in the national polls would also push him out front in the debate as well.
The Aug. 6 publicly televised debate was the first of six such events scheduled for this year. The second debate is Sept. 16 in Simi Valley, CA, hosted by CNN.
The Cleveland debate got off to an explosive start. Fox News Channel host Megyn Kelly goaded Trump about his previous comments on women he didn't like.
"You've called women you don't like 'fat pigs,' 'dogs,' 'slobs,' and 'disgusting animals,' Kelly said.
Trump cut her off quickly by saying, "Only Rosie O'Donnell," the television personality. Trump and O'Donnell have had previous spats online and off line.
Trump continued, "I think the big problem that this country has is being politically correct. I've been challenged by so many people, and I frankly don't have time for total political correctness, and to be honest with you, this country doesn't have time, either."
He added, "This country is in big trouble. We don't win anymore."
Instead of stopping there, however, Trump went on answering Kelly, saying, "I've been very nice to you, although I could probably maybe not be based on the way you have treated me (tonight).
The audience booed Trump on that one. Trump let it go right by him.
Another explosive element in the debate followed when co-host Bret Baier asked the candidates to raise their hands if they refused to pledge not to run as an independent against the eventual Republican nominee.
Only one candidate raised his hand - Donald J. Trump.
He has previously indicated but not flatly stated that if the GOP doesn't make him their man, he would run as a third party. Baier said GOP backers feared a third-party candidate might split the conservative vote and hand the 2016 election to Hillary Rodham Clinton.
Trump received a surprising pat on the back from Ohio Gov. John Kasich who showed up in 10th place on national polling lists. Kasich said Trump had hit a nerve among Americans.
"Those who want to just tune him out, they're making a mistake," Kasich said. "Now he's got his solutions. Some of us have other solutions."
The only other real fireworks in the debate was sparked by sharp words between Sen. Rand Paul of Kentucky and New Jersey Gov. Chris Christie. Government surveillance programs was the issue.
Paul said he wanted the government to collect phone and other records from suspected terrorists, "not innocent Americans." Christie called that "a ridiculous answer" and "just blowing hot air."
Paul countered by recalling Christie hugging President Barack Obama when the President visited New Jersey in the aftermath of Superstorm Sandy in 2012. Paul indicated he couldn't trust Christie's loyalties after that incident.
Immigration was supposed to be a red-hot issue for the debaters but it didn't get the coverage many thought it would receive.
Trump, however, claimed full credit for bringing the issue of illegal immigrants in the U.S. to the nation's attention.
"If it weren't for me, you wouldn't be even talking about illegal immigration," Trump told Fox news host Chris Wallace. "This was not a subject that was on anyone's mind until I brought it up at my announcement (to run for President)."
There was also an earlier debate in the same Quicken Loans Arena on Aug. 6 among seven candidates who did not make the cut to be in the top 10 debating tier.
The audience at that session was treated to a chuckle when former Texas Gov. Rick Perry was delivering comments on the immigration topic.
Perry said illegal immigration to the U.S. has been a problem even since "someone named Ronald Raven" gave amnesty to four million illegal residents. Perry had a brain block on the name of former President Ronald Reagan.
And so it goes at this moment.