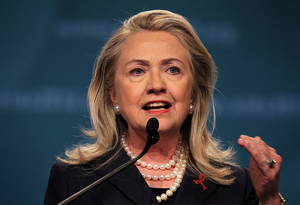 You could hardly call it a debate. Campaign stumping would be more like it. Two boring hours of it. When the lights finally were dimmed at the Wynn Las Vegas Casino Hotel Auditorium Tuesday night (Oct. 13), Hillary Rodham Clinton, the Democratic Party's 67-year-old front-runner for President of the United States, held her own against four other contenders.
It was the first of six scheduled Presidential primary debates to be held between now and March 2016. CNN and Facebook co-hosted Tuesday's event.
One thing for sure, there was no superstar contender on the podium. There was no Donald Trump in the house, to put it bluntly. .
Not even 74-year-old Bernie Sanders, the Independent Vermont Senator and Clinton's nearest rival for the Democratic Party's nomination, showed any of the gusto and bluster against his colleagues as he has frequently displayed on the regular campaign trail.
He even wound up shaking hands with Clinton right in the middle of the action after declaring he and the general public were "fed up" with constantly hearing about her email problems with the feds. Clinton liked that a lot. She said the government's allegations that she might have broken the law was just a political witch hunt.
The other "debaters" were former Maryland Gov. Martin O'Malley, former Virginia Sen. Jim Webb and former Rhode Island Gov. Lincoln Chafee.
Chafee, whose poll rating is in the low single digits, jumped at Clinton right from the opening bell. "I have had no scandals," he chirped in his opening statement. "I am honest...I have high ethical standards."
But he didn't say much of consequence the rest of the evening.
'I have had no scandals. I am honest ... I have high ethical standards,' former Rhode Island governor and senator Lincoln Chafee said in his opening statement.
That was a clear reference to Clinton's dozens of scandals going back to her husband's years as president and Arkansas governor, and most recently her email troubles involving classified material lodged on her private home-installed server.
Clinton ignored the barb.
The gun issue ate up a lot of time after CNN lead moderator Anderson Cooper noted guns was the most discussed political topic on Facebook over the last week.
Cooper asked Sanders first.
"You voted against the Brady bill that mandated background checks and a waiting period. You also supported allowing riders to bring guns in checked bags on Amtrak trains. For a decade, you said that holding gun manufacturers legally responsible for mass shootings is a bad idea. Now, you say you're reconsidering that. Which is it: shield the gun companies from lawsuits or not?"
Sanders replied: "Let's begin, Anderson, by understanding that Bernie Sanders has a D-minus voting rating (ph) from the NRA. Let's also understand that back in 1988 when I first ran for the United States Congress, way back then, I told the gun owners of the state of Vermont and I told the people of the state of Vermont, a state which has virtually no gun control, that I supported a ban on assault weapons.
"And over the years, I have strongly avoided instant background checks, doing away with this terrible gun show loophole. And I think we've got to move aggressively at the federal level in dealing with the straw man purchasers.
"Also I believe, and I've fought for, to understand that there are thousands of people in this country today who are suicidal, who are homicidal, but can't get the healthcare that they need, the mental healthcare, because they don't have insurance or they're too poor. I believe that everybody in this country who has a mental crisis has got to get mental health counseling immediately."
Cooper also asked Sanders: "Do you want to shield gun companies from lawsuits?"
"Of course not," Sanders replied. "This was a large and complicated bill. There were provisions in it that I think made sense. For example, do I think that a gun shop in the state of Vermont that sells legally a gun to somebody, and that somebody goes out and does something crazy, that that gun shop owner should be held responsible? I don't.
"On the other hand, where you have manufacturers and where you have gun shops knowingly giving guns to criminals or aiding and abetting that, of course we should take action.
Cooper then turned to Clinton: "Is Bernie Sanders tough enough on guns?"
Clinton didn't hesitate answering. "No, not at all. I think that we have to look at the fact that we lose 90 people a day from gun violence. This has gone on too long and it's time the entire country stood up against the NRA. The majority of our country...... supports background checks, and even the majority of gun owners do.
"Senator Sanders did vote five times against the Brady bill. Since it was passed, more than two million prohibited purchases have been prevented. He also did vote, as he said, for this immunity provision. I voted against it. I was in the Senate at the same time.
"It wasn't that complicated to me. It was pretty straightforward to me that he was going to give immunity to the only industry in America. Everybody else has to be accountable, but not the gun manufacturers. And we need to stand up and say: Enough of that. We're not going to let it continue."
In the most recent national polls, Clinton is at a 47 percent favorable rating; Sanders is at 35 percent. The remaining candidates are in the single digits and not climbing, either.
The second Democratic Debate is scheduled for Saturday, Nov. 14 in Des Moines, IA. CBS, Radio station KCCI and the Des Moines Register newspaper are the hosts. Bring a sleeping bag.
And that's the way it is at this moment.