Post Trump Election, U.S. Corporations Race for More Cuba Business Licenses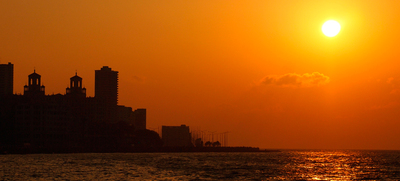 Cuban President Raul Castro has confronted U.S. President-Elect Donald J. Trump's hardball pitch to possibly break up President Obama's one year-old detente with the Communist island nation with a hardball gesture of his own.

The 85-year-old Cuban leader has called out his military to show Trump, 70, and the world that Cuba can defend itself if the U.S. naively plans any kind of illegal military entry.

It's Cuba's first such exercise in three years.

As the military exercises wind down, at least 26 U.S.-based corporations have applied to President Barack Obama's administration for the maximum number of

Individual business licenses to operate in Cuba. In the airlines sector alone, on the table are licenses for 110 direct airline routes to Cuba from the U.S.


The licenses are issued by OFAC, the federal Office of Foreign Assets Control.

The license race is on because the businesses fear Trump, after he is formally sworn in as President on Jan. 20, will either cancel or modify current licensing regulations allowing U.S. firms to be active in Cuba.

Most deals by U.S. companies to date have been 50-50 joint ventures with the Cuban government. The JV percentage is negotiable.

Trump says he plans re-negotiate every trade agreement now in force with countries around the world. "I want a better deal for America, that's why I am going to do that," he has said repeatedly over the last 17 months leading to his unexpected Nov. 8 election.

The 26 U.S. firms doing business or in the process of negotiations in Cuba, were posted for the first time Nov. 11 by the Havana-based Cuba Business Report website. They are, in alphabetical order:


Carnival (tourism)
Cisco Networking Academy (technology and training)
Caterpillar (industrial machinery)
Cleber (industrial machinery--tractors)
Colgate-Palmolive
Air BnB (tourism)
AT&T (telecommunications)
Airlines (Jet Blue, American Airlines, Delta, Southwest Airlines)
General Electric
Google (technology. Google plans to introduce broadband and Wi-Fi access in Cuba. The Cuban government is now allowing Internet hot zones in parks and some neighborhoods.)
IDT Corp. (telecommunications.) IDT was one of the first American companies to sign on as a licensee.
International Port Corp. is the first U.S. company to open an office in Cuba.
Marriott (tourism). Marriott's Sheraton brand already runs one Havana hotel (Four Points) and has Cuban government approvals to operate two more.
MasterCard Inc. (finance)
Norwegian Cruise Lines (tourism)
PayPal
Priceline (tourism)
Sprint (telecommunications)
Starwood Hotels & Resorts Worldwide (tourism) Starwood is the first U.S. hotel corporation in partnership with Cuba and is currently renovating and managing three hotels in Havana.)
Stonegate Bank (financial). Stonegate is the first U.S. bank having an agreement with the Cuban banking system.
Stripe (online payment system; financial)
Roswell Park Cancer Institute (health)
Royal Caribbean (tourism)
U.S. Agricultural Coalition for Cuba (USACC)
Verizon (telecommunications)
Western Union (financial)
Weber Shandwick (consulting)
U.S. companies can't own real estate in Cuba because of the embargo. Some now rent space; others find space in the homes or businesses of private Cuban citizens.

The active Cuban military force comprises 1.9 million men and 1.88 million women 15 years to 49 years of age. The military this week is completing exercises it began on Nov. 9, the day after Trump's stunning election victory over former Secretary of State Hillary Rodham Clinton

Of course, the fast-talking, topic-changing Trump has no plans to invade Cuba, but he does have plans to either unravel or re-negotiate a July 2015 agreement President Barack Obama worked out with Raul Castro to begin formal diplomatic relations after that door was closed in 1953.

The agreement doesn't include lifting a 56-year-old economic embargo that includes all exports except for food and medicine. President Dwight Eisenhower ordered the embargo on Cuba in October 1960. President John F. Kennedy followed up in February 1963 by issuing a travel ban. He also extended the trade embargo.

The Eisenhower embargo was placed after Cuba nationalized American-owned Cuban oil refineries without compensation to the owners. The Kennedy embargo was placed following the Cuban Missile Crisis in October 1962.

Trump flatly doesn't like the Obama-Castro agreement. He says Obama should have struck a better deal with Castro.

Here is what the U.S.-Cuba deal currently does:


Re-open a U.S. embassy in Havana for the first time in a half century.
Remove Cuba from the list of states that sponsor terrorism, a list it has been on since 1982.
Start talks on Cuban-American migration.
Begin working with Cuba on counter-narcotics strategy, environmental protection and human trafficking.
Increase the amount of money Americans can send to Cubans from $500 to $2,000 every three months.
Intermediaries forwarding remittances will no longer require a specific license from the government.
Ease travel restrictions across all 12 categories, including family visits, official visits and journalistic, professional, educational and religious activities, and public performances.
Regular tourism promotional programs, however, will remain prohibited until later negotiations between the two countries.
Licensed American travelers to Cuba will now be able to return to the U.S. with $400 in Cuban goods, including tobacco and alcohol products worth less than $100 combined. This means the long-standing ban on importing Cuban rum and cigars is over, although there are still limits.
Early in his presidency, Obama had allowed unlimited family visits by Cuban-Americans and removed a $1,200 annual cap on remittances.
"All of the concessions that Barack Obama has granted the Castro regime were done through Executive Order, not by the Congress," Trump has repeatedly reminded his followers. "That means the next president can reverse them - and that is what I will do unless the Castro regime meets our demands."

He says, like all Obama-backed international trade and other agreements, he will re-negotiate all of them--or the U.S. will walk away from them. He said that numerous times during his election campaign and he is standing by that posture today.

"As you know, and the people of Cuba know better" Trump frequently reminded campaign rally supporters, "putting money and investing money in Cuba right now (the money) doesn't go to the people of Cuba. It goes to Fidel Castro. He's a murderer. He's a killer. He's a bad guy in every respect, and, frankly, the embargo must stand if for no other reason then, if it does stand, he will come down."

Trump's reference to Fidel Castro obviously was also meant for his brother Raul, the country's president. Fidel Castro, now 90 and reported to be in failing health, is looked upon by his many admirers as the 'chairman' of Cuba without policy-making power. Fidel and his brother, Raul, seized Cuba from dictator Fulgencio Batista in 1959.

By coincidence or otherwise, Raul Castro has stated he is planning to step down around Feb. 18, 2017, either as president or as First Secretary of the Communist Party. He is completing his second five-year term in both positions. However, that 2017 date could be extended to April 2018 when the Communist Party holds its first Congress since 2011.

To do business with Cuba and for Cuba to do business with the U.S., Trump wants Castro to immediately free all political prisoners being held in Cuban jails, introduce multi-party democracy to the country and guarantee total religious freedom for Cuban's population.

Whatever happens in the next few years, Cuba will remain a Communist country, the Castros vow. The American government has spent $264 million over the last 18 years, much of it through its Development Agency, in an effort to spur democratic change in Cuba.

Complete democracy, as Americans know it, is never going to happen, argue the Castros, but some of Trump's demands may already have taken shape.

For example, Cuba freed 53 political prisoners in January 2015 as part of its deal with Obama to reopen diplomatic relations with the U.S.

However, the independent Cuban Commission for Human Rights and National Reconciliation, which the Castros call an illegal group, reported in June of this year the number of political prisoners now totals 114. In Nov. 2013, the total was 102. In 2011, Castro pardoned almost 3,000 prisoners of all kinds, including seven political prisoners.

Besides the demands he has already announced, Trump will have other policy considerations involving Cuba. They include growing cooperation with Havana on drug smuggling, oil spills and immigration.

Despite all his blubber and bombastic clichés, Trump remains a businessman, a real estate developer to be specific, even though he is President of the United States of America, the strongest nation on earth. Strangely, current federal law does not bar the country's President or Vice President to shed their private businesses to remain in power.

Before he entered the race for President, Trump told friends and associates he would like to consider opening a casino hotel in Cuba some day.

In fact, in 1998, Newsweek.com reported Trump allegedly broke U.S. law by hiring a consulting firm, Seven Arrows Investment and Development Corp. to scout Cuba for potential hotel development sites. Trump denied he or Trump Hotels and Resorts had paid the consulting firm $68,000 for its work but a Trump staffer later acknowledged the money was paid.

And so it goes, day after day in the conflicting life of Donald J. Trump.

Although he may eventually soften, modify or even deny some or all of the statements he has made to date against the Castros, the Cuban Communist Party and Obama's 2015 agreement with Raul Castro, Fidel Castro, at 90, is one individual who doesn't believe it will happen -- and doesn't even care.

"We don't need the empire to give us any presents," he wrote in his published newspaper column after the 2014 Obama visit.