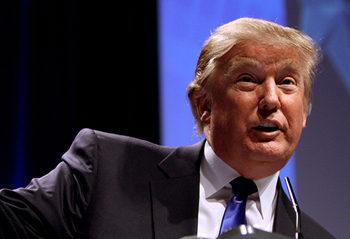 Deregulation. Or less regulation. That's the magic wand President Donald J. Trump, a homebuilder by birth, is waving over the nation's real estate industry today. Any deregulation action will help the real estate business.

Take it from the nation's seers, most, if not all real estate categories in the United States this year, are headed for solid gains. There will be unexpected pitfalls, of course, in the commercial, residential, industrial and retail sectors.

But as a whole, the bulk of the signage in the real estate industry, under Trump, will be positive. The luxury residential market worldwide will continue to be busy, largely with cash deals, many from Asia-based investors.

Still, for example, a negative arrow surfaced on many charts right after Trump's inauguration on January 20th. Realtors nationwide were shocked.

The Department of Housing and Urban Development (HUD) had "suspended indefinitely" a previously planned decrease in the annual mortgage insurance premium on home loans insured by the Federal Housing Administration (FHA).

The FHA is the world's largest mortgage insurer.

The National Association of Home Builders (NAHB), the National Association of Realtors (NAR) and other Realtor groups immediately urged Trump to review his decision and reinstate the cut.

According to NAR President William E. Brown, an estimated 850,000 home buyers will face higher costs and about 40,000 new home buyers will not be able to afford homes at all in 2017 because of the HUD ruling.

The Obama Administration announced the cut January 9th. It would have reduced the annual insurance premium on most new FHA mortgages to 0.6 percent from the current 0.85 percent. That quarter point cut, for example, would have saved a homeowner with a $500,000 mortgage $1,250 a year.

First-time homebuyers like FHA loans because they require lower down payments, some as low as 3.5 percent. The loans also require lower credit scores (generally down to 580), compared to loans from Fannie Mae and Freddie Mac.

Fannie and Freddie require mortgage insurance on loans with less than 20 percent down, but the insurance comes from private-sector insurers.

The FHA charges borrowers a one-time mortgage insurance premium. That premium amount can be rolled into the loan, and an annual premium that is added to the monthly payment. These premiums then go into the FHA's Mutual Mortgage Insurance Fund which covers any losses on FHA loans.

Before the housing crisis, the annual premium on FHA loans with less than 5 percent down was 0.55 percent. However, sharp losses forced the FHA to increase this premium up to 1.35 percent by April 2013. Since then, the fund's health has improved and the premium was cut.

According to Walter B. McKenzie of The Image Bank, a company owned by New York--based Shutterstock Inc., about 35 million families deducted their property taxes from their federal taxable income in 2016. They saved a total of $33 billion. This deduction makes it easier for school districts to raise money from property taxes. But this deduction is now targeted for elimination in the House GOP blueprint.

McKenzie's research shows nearly 34 million families claimed the mortgage interest deduction in 2016. That deduction reduced their tax bills by $65 billion. Some economists argue the deduction is an inefficient way to promote home ownership. But it has strong support among home owners and every industry associated with buying and building homes. For now, the House GOP is keeping this deduction as is but it could be shaved later for high-priced homes.

Especially in danger of being eliminated from future use on federal tax returns are state and local taxes. McKenzie's numbers show more than 43 million families deducted their state and local income, sales and personal property taxes in 2016. The deductions reduced their federal tax bills by almost $70 billion. More than 90 percent of taxpayers who itemize take advantage of this deduction. But the House Republican blueprint would repeal the deduction to help pay for lower tax rates.

In an email to Trump earlier this year, Granger MacDonald, chairman of the 140,000 member National Association of Home Builders and a home builder and developer from Kerrville, TX, urged the President and the Congress "to keep housing a national priority, to provide regulatory relief for the nation's small business community and to advance policies that will expand homeownership and rental housing opportunities for all Americans."

On a different note, it remains to be seen whether Republicans can stop the FHA from providing taxpayer-guaranteed mortgages to wealthy home buyers. That, too, was one of Trump's many things-to-do he said, when he became President.

One way or another, that decision is not expected to seriously affect the luxury residential market since many of the transactions are all-cash. But other Trump tweets could affect other segments of the home market.

For example, a few wealthy Chinese condominium buyers fled San Francisco after the President announced during his campaign and even after his Jan. 20 Inauguration that a trade war between China and the U.S. was still possible. If the Chinese investment block as whole feels it is unwelcome in the U.S., this country may lose a serious part of the luxury home market business.

Continued political unrest in the U.S. could drive foreign investors away from this country and into secondary luxury residential markets such as Melbourne, Amsterdam and Vancouver.

But looking at it from another angle, Trump's proposed tax breaks to companies and their wealthy executives could open the door even wider for American company chiefs to invest, especially in the New York markets. Right now, Wall Street is healthy and so is supply and demand in the New York markets. New York is considered a safe haven for foreign money.

The Miami-Dade condo market is flush with properties, carrying a three-year inventory of high-end homes.

Housing activity generally is expected to get a boost if Trump's planned tax breaks for corporations and the country's billion-dollar investment in infrastructure are approved by the Congress.

British brokers are mostly optimistic about Trump's potential affect on the London housing market. They seem to agree with his vision for smaller, not larger international trade markets. Because of that feeling, British brokers see American luxury market hunters continue buying into popular London metro investment areas like Regent's Park, Grosvenor Square and West London.

Another favorable assist to the British luxury home market, as well as to the commercial side, could come from Middle Eastern buyers - especially if Trump's vitriolic anti-Islamic rhetoric doesn't slow down. The Middle East investors would be switching their current sights from Los Angeles and New York.

A chain of retail stores in the Middle East already has halted selling Trump-branded home décor products. His name also has been stripped from a golf course under development in Dubai.

And in Dubai's high-end housing market, that sector is expected to receive a boost if political uncertainty continues to face the U.S. and Brexit-headed United Kingdom (UK).

On the commercial real estate side, there has been no immediate shock and awe announcement to date from the White House comparable to the residential edict. But several new scenarios are envisioned as Trump's plans to deregulate all industries are being worked out.

For example, commercial developers are heartened by White House corridor talk of preserving the 1031 tax-free exchanges, income tax cuts for all filers and the carried interest exemption for investment managers.

Trump's previously announced plans to quadruple previous Administration spending on the nation's roads, bridges and airports, and new immigration policies will probably reduce the supply of low-cost labor and could lead to a higher inflation level and also higher interest rates.

If that happens, foreign investment to the U.S. would probably fall and population growth would be dampened, two factors that would affect the commercial real estate market.

Real estate investment trusts (REITs) especially would experience short and long-term results. Generally, conventional wisdom has held that higher interest rates are negative for REITs because of the inverse relationship between the cost of debt and the rate of return on equities.

Over time, however, inflation leads to increased rents and strong capital gains on real estate investments. High government spending could also stimulate the economy. Such activity could increase the value of REITs and other real estate equities.

Still, a cloud over the entire real estate industry hangs over Trump's proposals to limit immigration into the U.S. through visa restrictions or to deport a large number of illegal immigrants who have lived here for many years.

Such actions would, of course, slow or halt all foreign investment here and immediately drive up the cost of all new commercial ventures because of labor shortages.

In the regulatory field, two well-known buffers - Dodd-Frank and Basel III - are expected to be weakened by the Trump Administration. Changes in the Dodd-Frank Wall Street Reform and Consumer Protection Act could give community banks more freedom in lending to previously considered risky individuals or entities.

Changes in Basel III, however, are not expected to have much of an impact on the commercial real estate scene. Basel III is the voluntary global network that provides a buffer between banks and risky real estate constructions loans and other financings.

Regardless of Trump's fickle behavior, there will be new 2017 trends to watch for in both the commercial and residential real estate sectors. Among them are:


Development of smaller homes nearer to public transit and urban centers.
Creation of studio-size homes built next to main homes. Reason: Lack of inventory for conventional-size homes.
Suburban downtowns are starting to approve new housing.
More Millennials (born between 1982 and 2004) are becoming homeowners. That will drive up the homeownership rate.
Another age group, Gen Z, will follow the Millennials as the newest source of homebuyers. Gen Zs were born between 1996 and 2010.
Zillow Research finds nearly half of all buyers in 2016 were first-time buyers. That's up 35 percent from a 30-year-low of 32 percent in 2015, according to the National Association of Realtors. Under-35 buyers made up 61 percent of all transactions in 2016.
More affordable rents are on the way. Reason: Rising income and a slowdown of growth in rents.
Many new home prices will be the highest in years. Reason: Higher construction wages and labor shortage due to new immigration policy.
Home values expected to grow at least 3.6 percent.
Probably the most intriguing and dramatic change that already is happening in the commercial and residential markets involves the use of Federal Aviation Administration--Approved drones in the marketing, selling, buying, appraising, inspecting and valuation of properties.

It's a whole new way for brokers to interact with clients and buyers from all around the world. Drone prices currently run from $500 to $1,200. You don't need a pilot's license to fly one.

As the global real estate industry ponders what effects the new White House Administration will have on the housing and commercial markets, President Trump still hasn't selected a nominee to be his Federal Housing Administration Commissioner.

He has, however, selected retired Detroit neurosurgeon Ben Carson as the Secretary and head of the influential Department of Housing and Urban Development (HUD). The FHA falls under the HUD umbrella. Although HUD calls many of the important decisions, much of the real decision-gathering work is controlled by the FHA and its Commissioner.
Genger Charles is running the agency's day-to-day affairs. Her title is General Deputy Assistant Secretary for HUD. It's possible Trump may keep her in that post until he is comfortable with finding a Commissioner candidate he likes. Charles may very will win the FHA post as she is considered an up-and-coming star in governmental mortgage circles today.

She previously served as a Senior Policy Advisor and the first ever Chief of Staff to the FHA Commissioner.

A specialist in leading strategic initiatives and achieving mission critical priorities, Charles oversees the operations of the FHA and advises on policy and regulatory development, portfolio management, legislative affairs and communications in the areas of Housing Counseling and Single Family, Multifamily and Healthcare mortgage insurance and finance.

What make her especially appealing as a Trump candidate is her experience as a key decision maker in the establishment of FHA mortgage insurance premiums, enforcement policies and organizational change management through the Multifamily for Tomorrow Transformation Initiative and institutionalizing the FHA Office of Risk Management.

Trump is a homebuilder by family tradition and is expected to favor that industry in any way he can. He is especially tuned in to the mortgage category as it applies to both residential and commercial.

Other candidates whose names have been forwarded to Trump include Ed Brady, National Association of Home Builders immediate past chairman; Biniam Gebre, a former Acting Commissioner; Clinton Jones, a senior House Financial Services Committee staffer and Brian Montgomery, a former FHA Commissioner.

Also: Debra Still, president and CEO of Pulte Mortgage and a former chairman of the Mortgage Bankers Association; and Rep. Scott Garrett (R--NJ) who recently lost his re-election bid. He has also been mentioned for positions at the Federal Housing Finance Agency and at the Securities and Exchange Commission.

Brady, president of Brady Homes, a small homebuilder in Bloominton, IL, appears to be among the top candidates Trump is considering for the FHA position. Over the years, he has been a strong FHA supporter but has also spoken out when he thought an FHA proposal was not in the best interests of the real estate industry.

For example, he recently criticized a HUD proposal to raise elevation standards for new and heavily renovated FHA-backed multifamily construction in an expanded flood zone. Brady argued the FHA was over-stepping its authority by including single-family building in its proposal. In an opinion piece in Builder Magazine, he called the proposal "bad policy and bad governance."

With homeownership in the U.S. at its lowest level in 51 years, Washington insiders say whoever Trump picks as FHA Commissioner will likely depend on whether the President and his team want to expand the agency's role in the mortgage market.

My bet: Debra Still. Why?

She is President, CEO and Chief Operating Officer, Pulte Mortgage; President and CEO, Pulte Financial Services; chairman of the Mortgage Banking Association's Open Doors Foundation; and a Pulte staffer for 32 consecutive years. She also headed the MBA in 2013.

But, hey. Don't tweet me on that. I may have forgotten those six names altogether as I send my good friend Vladimir Putin in Moscow a belated Valentine card.