Emerging Cuba-U.S. Tourism Industry Could be Impacted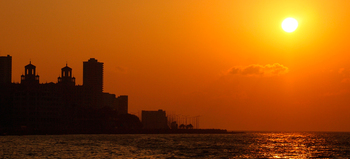 Billionaire real estate developer and U.S. President Donald Trump, who once considered building luxury hotels in Cuba, is getting set to swing a sky-high verbal crane over the tiny Communist-governed nation.

According to several Washington media sources, over the next four weeks, Trump will sign an Executive Order that for all intents and purposes will bring many of the current economic-boosting strategies to a halt in both the U.S. and Cuba.

He is expected to make this announcement in Miami. The White House so far has refused to confirm or deny this event is on the President's speaking schedule.

Trump's order is aimed at reversing many, but not all of former President Barack Obama's progressive policies he enacted in 2015.

Trump is expected to ask his Republican brothers in the Congress to back him up on this new action but he will not receive the support he needs to translate his order into law, according to several Washington reporters and lobbyists closely following the President's actions since his Jan. 20 inauguration.

Why is Trump getting so involved with foreign policy all of a sudden?

For one thing, his domestic plans for the U.S. to date have failed, embarrassingly so far. By playing his hand outside the U.S., he hopes Americans will temporarily ignore his economic inactions on their behalf inside the country.

Just last month, Trump placed sanctions on eight members of Venezuela's Supreme Court for allegedly stripping the country's National Assembly of power. Violent protests in Venezuela followed Trump's action.

The sanctions prevent officials from traveling or doing business in the U.S. The sanctions also freeze any assets the Venezuelans may have had abroad.

Easing travel and trade restrictions on Cuba is what Obama had in mind since his first of six rounds of Executive Orders were issued Dec. 17, 2014. But that is all headed for a screeching halt if Trump goes ahead with his Miami announcement this month, according to Engage Cuba.

Engage Cuba reports that it is a bipartisan non-profit whose funds are entirely dedicated to legislative advocacy efforts.

In a white paper, the organization argues Trump's rolling back Cuba policies, formerly enacted by the Obama administration, would cost the U.S. economy $6.6 billion and affect 12,295 jobs.

Many of these jobs would be lost by the very Americans who put Trump in office.

Especially hurt economically would be Trump voters residing in rural communities across the country.

Workers in tourism, agriculture, manufacturing and the shipping industries would be especially hurt by Trump's added regulations on travel and trade to Cuba, according to Engage Cuba's data.


Engage Cuba's analysis excludes agricultural and medical exports because provisions allowing for limited exports in these sectors were authorized by Congress in 2001. That action pre-dated Obama-era regulatory changes.

"Given their deep water ports and proximity to Cuba, imposing regulations on Cuba would particularly threaten economic growth and job creation in the Gulf states, including Florida, Louisiana, Texas, Alabama, Georgia and Mississippi - all of which supported President Trump in the 2016 election."

Trump critics at this juncture are quick to point out that the President's thrusting campaign theme was to remove onerous regulations and business barriers for small entrepreneurs - actions his new policies would contradict.

The engine driving Trump's newest meddling in foreign affairs comes directly from Republican Florida Sen. Marco Rubio, Democratic New Jersey Sen. Bob Menendez and Republican Florida Rep. Mario Diaz-Balart.

Rubio tweeted in March that he was "quite confident" Trump will "treat Cuba like a dictatorship."

The three legislators would not comment on Trump's upcoming plans for Cuba.

But John Kavulich of the non-partisan U.S.-Cuba Trade and Economic Council confirmed the plans to the Washington press.

Kanaulich said Trump had actually been thinking of making an announcement in February 2017, but was caught up in other controversial White House happenings that placed the Cuba decision on hold until now.

At least nine Republican Senators are ready to battle Trump if he tries to get full Congressional approval for his Cuban plans. The senators are lead by Arizona Republican Sen. Jeff Flake who just last week introduced a bill to remove all travel restrictions with Cuba.

In a prepared statement, Flake said "recognizing the inherent right of Americans to travel to Cuba isn't a concession to dictators. It is an expression of freedom."

He added, "It is Americans who are penalized by our travel ban, not the Cuban government."

Trump is not planning to roll back all of Obama's policies - just the ones that will make the 6 o'clock and 11 o'clock TV news programs. For example, Trump is expected to demand U.S. fugitives of justice, such as Assata Shakur. Shakur received political asylum in Cuba after being convicted of killing a New Jersey state trooper and escaping from a U.S. prison.

Trump is also expected to issue an Executive Order barring American companies from making deals with the Cuban military. The military controls much of the state-run tourism industry.

By taking these dictatorial actions, Trump somehow feels he will not be closing the door on near-future U.S.-Cuba relations. Instead, he would be fulfilling his campaign promises to conservative Cuban-American voters and anti-Castro members of Congress.

Trump's maneuvering on the Cuban scene may also be part of a long-range strategy by the President. Cuba's President Raul Castrol, 85, has said he will step down some time in February 2018 - after he has hand-picked a replacement.

Trump may very well be thinking he might be able to craft personal deals with the new Cuban President - deals that might enhance Trump family worldwide enterprises.

Trump is 70. Unlike Raul Castro, Donald Trump has no immediate plans to step down. Stay tuned for the next chapter. It could surface tomorrow.