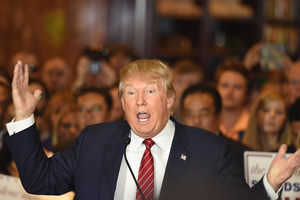 If you were deaf, dumb and blind in 2017, you still might have heard, been told or even imagined that the year began and ended in a fashion previously unknown in U.S. political archives. It was bizarre
For starters, Donald J. Trump, the 71-year-old egotistical President of the United States of America, inaccurately told the world "millions" had jammed the National Mall to witness his Jan. 20 swearing-in as the 45th leader of this country.
He estimated the Washington, DC crowd as "about a million and a half." That would have been the largest turnout of such an event in American history.
Fact: Only an estimated 500,000 persons came out to see the inauguration ceremony. And even that estimate was challenged, and is still being challenged by numerous political pundits as being too high.
From that first day in office to the present, Trump's notorious tweets and stand up announcements made to the public and the press from either his office desk or the Rose Garden have ranged from being patently false, to idiotic executive orders, and to utterly insane observations of the nation and world allies.
For most of the past 12 months, the Republican Party let Trump get away with most of his ignorant and biased announcements. And the Democratic Party was just as flaccid in trying to control his outbursts. But say and think what you will about this clown leader, he did post several plus points in his first year in office.
Although he admits to having a peculiar admiration for Russian Premier Vladimir Putin, Trump angered the former KGB chief by approving a $47 million arms package for the Ukraine; sent troops to Poland's border with Russia; and instigated new sanctions on Moscow for violating the Intermediate-Range Nuclear Forces Treaty.
Trump is being credited with ushering in a new age of American energy and development by approving the Keystone XL pipeline and opening the Arctic National Wildlife Refuge to exploration.
At the same time, he also had the U.S. pull out of the Paris Agreement. He did this, he said, because he labels global climate change a "hoax" that is hurting U.S. industries and creating job loss -- a move that is being cheered by some and criticized by others.
He is also being patted on the back for helping to strengthen NATO. He did this by persuading NATO allies to contribute $12 billion more to beef up the organization's security profile. Presidents George W. Bush and Barack Obama had failed to accomplish the same maneuver during their combined total 16 years in office.
More roses are being thrown Trump's way for virtually eliminating the Islamic State's physical caliphate. He did this by removing the handcuffs Obama had placed on the U.S. military and gave the military a green light to drive the terrorists from their strongholds. He did this even though he conceded his first instinct was to pull American troops completely out of Iraq and other Mideast hot spots.
Although controversial to the bone, Trump enacted historic tax and regulatory reform that is being credited for American's so-called current economic drive -- a drive that is showing consecutive 3 percent-plus growth levels over the last three quarters of 2017.
But many Americans are puzzled and frightened by Trump's push to lower the U.S. corporate tax rate to 20% from 35% -- at a time when many large corporations are thriving and not really planning to start a serious move to create more new jobs that a lower tax rate is supposed to produce.
Also suspicious is Trump's continual blabbering that the tax overhaul will be a boon to the so-called "middle class" of this country. By allowing individual filers and married couples an automatic $10,000 deduction in place of itemizing expenses, charities will become the main victims of a cruel con job by the President and his Republican lawmakers.
What will happen is that charitable contrbutions will see a steep drop because they can no longer be easily deducted in full under the standard $10,000 deduction plan.
Unless modified by the April tax-filing deadline, you may deduct a maximum of up to 50 percent of your adjusted gross income (AGI) shown on Line 36 of IRS Form 1940 for the tax year the donation was given.. However, if you give more than 50 percent, the excess may be carried forward for up to five years.
Not many "middle class" wage earners are going to get involved in such mathematical jockeying.
A little-known change in the new tax law is the damage the Republicans, with Trump's blessing, have done to the 35-year-old Orphan Drug Act. This legislation provides tax benefits to drug companies for research on rare but serious disorders.
The diseases are estimated to affect less than 200,000 persons. That makes it immediately unprofitable for the drug companies to give the research a high priority, even though the research itself has made enormous inroads since it began in 1983.
What did the Republicans and Trump do? They cut the tax benefits to the drug companies in half.
If you think that's cruel, consider that billionaire Trump (estimated net worth, $3.1 billion; he says it's closer to $10 billion) and millionaire Tennessee Republican Sen. Bob Corker (estimated net worth, $75 million) stand to collectively receive as much as $414 billion in benefits under the new tax act.
On another less controversial front, Trump is moving quickly to fill federal appeals court benches with young and conservative-thinking judges who will probably serve for decades. Trump is also taking credit for naming 49-year-old Appeals Court Judge Neil M. Gorsuch of Denver, CO to the Supreme Court, a move that gave him a conservative majority in those chambers.
He also won praise and at the same time drew sharp rebukes for recognizing Jerusalem as Israel's capital. Four American presidents had previously promised to do so. Whether he can now persuade the Congress to back him in trying to build a billion-dollar embassy compound in Jerusalem during his term in office is another unknown at this time. America's embassy complex has been situated in Tel Aviv since it opened in 1966.
On Venezuela's Nicolas Maduro's dictatorship government, Trump was hailed by some for signing an executive order that is supposed to restrict that country's access to the U.S. financial system. However, the order did not impose a full oil embargo.
He also renamed the Asia-Pacific as the Indo-Pacific to include India, a move Trump thinks will keep China from spreading its economic influence to most of Asia.
The worst things Trump has done in his first year in office would probably fill a small encyclopedia. At times, his irrational executive orders, bucking and undoing many of Obama's accomplishments, have spewed out almost on an hourly basis.
Foremost among Trump's failures was his reluctance to reach out across party lines and work more closely with the Democrats. Of course, Obama could possibly be faulted to some degree for doing the same.
He spent more time in his first year in office attacking fellow Republicans than thrashing the Democrats. That is why much on Trump's agenda got nowhere with the Senate majority.
By seeming to give Russia and Iran official recognition in order to defeat the Islamic State, Trump drove Sunni Arabs into the waiting arms of al-Qaeda, a much more dangerous group than the Islamic State terrorists.
In a foolish and dangerous move, Trump attacked the FBI, the Justice Department and the intelligence community of the U.S. He did this after becoming angry at perceived leaks to the press from a few CIA staffers and others with an anti-terrorist intelligence clearing.
The leaks involved private conversations Trump had with foreign leaders and also with White House personnel allegedly involved in the Russian election spy probe.
The President's constant immaturely-crafted daily tweets on everything from his love of chocolate cake to Saudi Arabian billionaires immediately made him a clown target for online comedians, the Democrats and even some members of his own inner White House circle.
He shot himself in the foot time and again by tweeting about Obama allegedly wiretapping him; gloating over Arnold Schwarzenegger's failure on Trump's former NBC show, The Apprentice; and attacking the hosts of the CBS show, Morning Joe.
Strange as it may seem, even for Trump, he had promised to start treating captured terrorists as enemy soldiers, but instead of using interrogation methods by professional U.S. government anti-terrorist personnel and sending them to the Guantanamo Bay detention compound in Cuba, he followed Obama's criminal-justice approach to detention.
Trump opened, for himself, a dangerous can of political worms by firing former FBI director James B. Comey four months (May 9) after his inauguration instead of doing it immediately after being sworn into office on Jan. 20.. Now Special Counsel Robert Mueller, also a former FBI director, is into an eight-month investigation of suspected leaks from Trump's office on Russia's alleged efforts to affect the 2016 Presidential election results.
Despite public comments by several U.S. government anti-terrorist investigators, Trump continues to take the word of Russian Premier Vladimir Putin who denies any meddling by Russian government spies or hackers in this country's 2016 Presidential election.
The President's backing of former Alabama Gov. Roy Moore who lost to Democrat Doug Jones in the Dec. 12 special Senate seat election made Trump look like an amateur political player. Worse, Trump had tweeted ahead of the election, "When you vote for Gov. Moore, you vote for me."
The violent Aug. 13, 2017 rally in Charlottesville, VA by a group of screaming white supremacists possibly stamped Trump as the most unpresidential White House occupant in U.S. history. One person was killed and 19 others were injured.
Instead of condemning the neo-Nazis and Ku Klux Klanners who made up most of the rallying group, Trump blamed the group that fought off the supremacists. "There is blame to go around for both groups," Trump said. "I think there is blame on both sides."
The white supremacists were in Charlottesville to protest the removal of the Robert E. Lee statue from a city park.
Although he realizes he may not be the American voting public's No. 1 poster boy at the moment, Trump points to his latest approval and disapproval ratings as being equal at least to those of President Barack Obama in his first year in office.
When Trump took office on Jan. 20, he had a 45 percent approval rating. A Dec. 29 Rasmussen Report pegged Trump's approval rating the same, at 45 percent , and his disapproval rating as 52 percent. Obama had a 47 percent approval rating and a 52 percent disapproval rating in his first year in office.
The Democratic Party is being criticized for a lackluster performance in 2017 but the forecast for the party's 2018 accomplishments is not that dismal at all. At least, if you want to go along with nationally-known pollster Nate Silver.
He founded FiveThirtyEight, an odd-sounding website that pulls numbers together and predicts outcomes for political, sports and other national events. ESPN Inc. owns FiveThirtyEight. The website was named for the 35 electors in the United States Electoral College.
Silver's computations show that on average Democrats have posted about 12 points better than expected in elections across the country in 2017. Silver checked at least 70 special elections.
In federal election contests, the swing has been larger, according to FiveThirtyEight. The swing shows a 16-point shift toward Democrats. That margin matches numbers from 2006, the last time the Democrats controlled both the House of Representatives and the Senate.
But in the Senate, of course, where one-third of the 100 seats are up for grabs in 2018, the GOP is favored.
Silver calculates that to win a Senate majority, Democrats would have to hold onto all their current seats and snatch two from the Republicans.
Not impossible in a political season that already has seen a wealthy uncouth New York real estate developer without any political background, clobber known political names in both parties to win the Presidency of the United States.